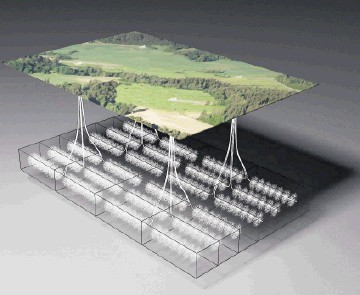 American companies PanAmerican Geophysical and NanoSeis are joining forces to commercialise the Narrow Beam Scan (NBS) microseismic technique developed by the latter to improve the detectability, spatial mapping, and understanding of the nature of microseismic events during the hydraulic fracturing process.
Hydraulic fracking has been relatively routine for some 100 years. However, the intensive use of this technique for shale gas/oil production has proven controversial.
PanAmerican said that the accurate mapping and understanding of such events allows oil and gas companies to optimise their fracking expenditure and to confirm that the fractures stay within the intended formations.
It said that the technique uses a small number of patches of densely-spaced geophones strategically placed over the fracturing zone of interest which allow un-aliased sampling of the 3D wavefields that are generated by the fractures.
This, it said, enables a full suite of advanced seismic processing methods to be used to suppress noise, detecting many more real events while eliminating false events caused by poor sampling and noise.
The patch geometries facilitate accurate event positioning and the multiplicity of patches can provide increased confidence on the accuracy of each fracture location. The technique can be used in conjunction with a monitor well, or as a stand-alone service.
PanAmerican is now deploying the NBS capability to its operating companies in Argentina, Brazil, Canada, Colombia, and in the US, which will then serve as hubs to offer the services in neighbouring countries.
Dave Diller, of NanoSeis, said it was clear that operators are ready for an improved method for surface microseismic monitoring.
"The Narrow Beam Scan is really just a back-to-basics approach," said Diller. "Start with a un-aliased measurement of the wavefield, apply 3D filters instead of 2D filters, and good results will follow. We're very pleased to be able to leverage the experience and operation excellence of PanAmerican to commercialise the method."