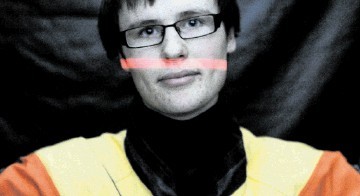 Experts are harnessing 3D scanning technology developed for big budget blockbusters to chart the changing shape of the offshore workforce.
Researchers in Aberdeen will deploy the latest hand-held device – last used to create the animated stars of the Chronicles of Narnia film – to gather the first detailed record in almost 30 years of the heights, weights and widths of North Sea employees.
The new dimensions will help designers ensure safety equipment, survival clothing and space on helicopters and installations are the right size for the people who need it.
More than 600 people will be measured for the project, which is being led by Robert Gordon University's Institute of Health and Welfare Research (IHWR) in collaboration with Oil and Gas UK.
The scanner provides an incredibly accurate 3D image in a minute-and-a-half.
Project leader Dr Arthur Stewart, reader and deputy director of RGU's Centre for Obesity Research and Epidemiology (CORE), said the sophisticated technology was another symbol of how much the world had changed since the last typewritten study of oil workers' measurements was completed in the 1980s.
"Back then the average worker was 1.756m," said Dr Stewart, who normally uses body scanners for his work with eating disorder patients.
"We know the population as a whole has grown by 2cm since then and the average weight of the workforce has risen by 19%, but we don't have specific measurements for the offshore population. If we can find that out, we can make sure things like survival suits and living conditions are fit for purpose for the 46,000 people in the current workforce and all those in the future."
Employees will be asked to volunteer while they do their offshore survival training at Falck Nutec's centre at Dyce. Several member companies of Oil and Gas UK have contributed towards the £150,000 cost of the two-year project.
Robert Paterson, the industry body's health, safety and employment issues director, said workers' safety was a top priority.
"If people are having to pass side-on in corridors because their shoulders are getting wider or if there are issues about moving sick people down stairs on stretchers, there may be things we should be doing now."