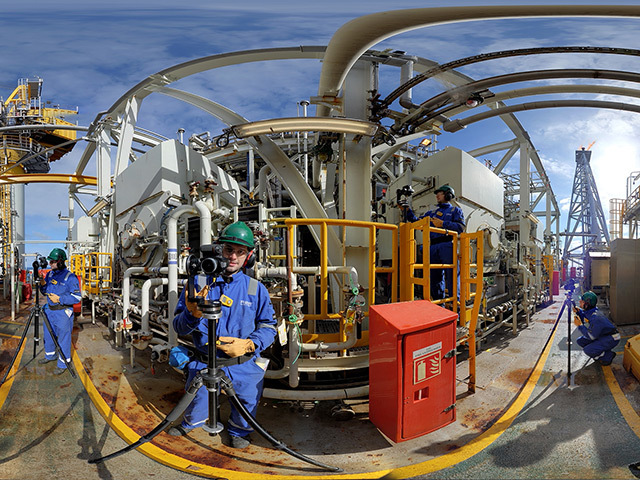 The four founders of a three dimensional visualisation firm are on track to pocket a £4.6million payout next year after its owners confirmed it was on target to hit profit targets.
Return to Scene (R2S), which analyses offshore installations and crime scenes, is on track to break the £5million sales barrier in 2013 after year of dramatic growth, its owners have confirmed.
Founders Graham Buchan, technical director; Brian Dillon, managing director; Evan Watson, operations director and Bob Donnelly, the company's business development director, are expected to benefit from the bonanza.
The Aberdeen-based company's presentation technology was first developed initially to be used as tools for investigating crime scenes, until its founders developed an application for the offshore oil and gas industry.
R2S maintains a division developed with forensic investigators that has been instrumental to law enforcers.
The firm's technology was used in the case against north-east wife killer Malcolm Webster.
And R2S Crime's visualisation technology was key to the prosecution of Mark Simpson, who was jailed for at least 20 years in 2010 after being convicted of killing his girlfriend's six-week-old daughter, Alexis Matheson.
Last year the founders of the technology and media firm sold it to SeaEnergy, an Alternative Investment Market (Aim) listed group for £5million.
John Aldersey Williams, the chief executive of SeaEnergy, confirmed the four remaining founders were due for the £4.6million earn out in 2014 as part of the contractual agreement based on hitting profit figures.
Mr Aldersey Williams said: "It is doing great and it is doing everything we thought it would.
"There is still all the CSI image of the firm but it has been growing very strongly in oil and gas. It has grown from a turnover of £1million three years ago to £5million this year."
In February the R2S directors received another £500,000 cash consideration because they met targets.
R2S was last night hailed by oil and gas industry executives at the launch of its newest product development, which it dubs R2S version three.
Around 50 energy industry representatives attended the launch of an upgraded version of R2S's unique visualisation tools at an Aberdeen cinema.
Peter Scott, lead business analysts at Chevron Upstream Europe, who made a presentation at the event, said R2S's visual asset management system was a "critical element" of the remediation process following a fire at its unmanned Erskine Platform 150 miles east of Aberdeen in 2010. He said the company now uses the visualisation software across 13 facilities, including its integrated operation centre.
He added that use of the visualisation tools now saves the firm an estimated £310,500 a year.
Following SeaEnergy's announcement of the launch event and its publication in the Press and Journal on Wednesday, SeaEnergy's share price enjoyed an 8.6% boost, closing at 31.75p at the close of markets last night, adding about £1.3million to the value of the company.
SeaEnergy, which was previously traded as Ramco, a traditional oil and gas explorer, confirmed its core investment is in R2S, although it has other assets including a 21.5% stake in Lansdowne Oil and Gas, also an AIM-listed firm with interest in the North Celtic Sea basin off the south coast of Ireland.
In the 10 months to the end of 2012, R2S had a turnover of £1.6million and made a pre-tax profit of £218,186.
R2S Cases
The injuries suffered by Alexis Matheson, a six-week-old baby at the hands of her mother's boyfriend would have been horrendous to see.
But the prosecution of her killer, Mark Simpson, relied on the nature of the injuries caused to Alexis.
The technology developed by 3-d visualisation firm, Return to Scene (R2S), was used by prosecutors to demonstrate the extent of baby Alexis's horrific injuries to the jury but causing them as little distress as possible.
The company's team of multimedia experts, forensic specialists and former police staff worked with the prosecution to develop a computer-generated 3D model of the infant.
Simpson was found guilty of her killing and subsequently jailed for at least 20 years.
Although R2S's technology is now more commonly used in the offshore oil & gas industry, it has been welcomed by judges and defence and prosecution lawyers for its ability to enhance the presentation of evidence. R2S was involved in the Independent Police Complaints Commission's investigation into the death of Ian Tomlinson, who was killed during G20 protests in 2009.
The firm's technology was also used to convict Malcolm Webster of killing wife Claire Morris.