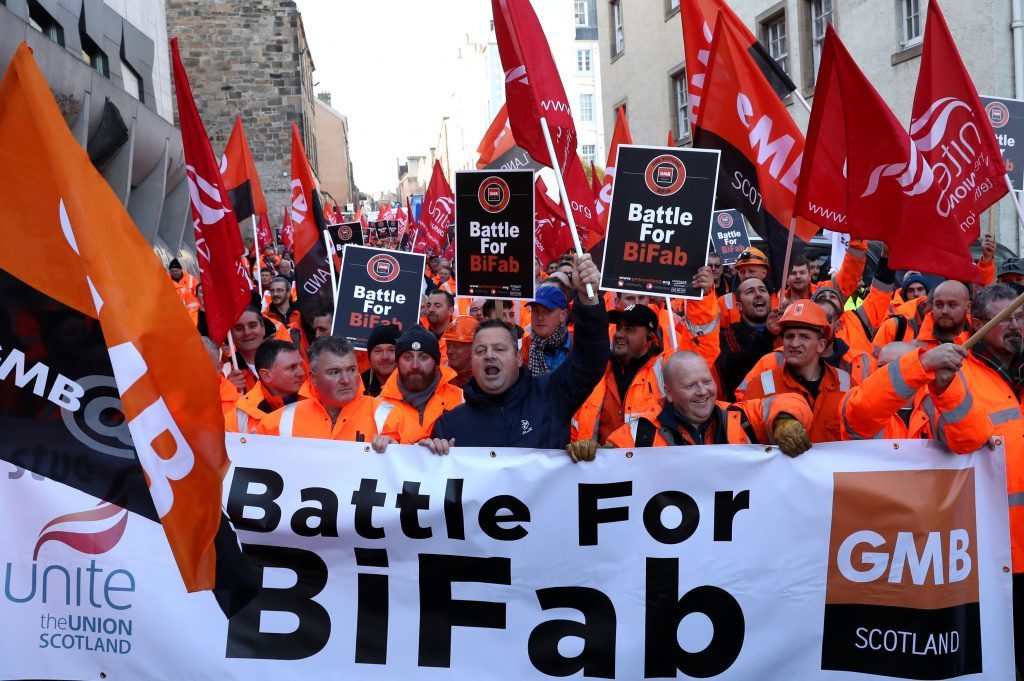 The Burntisland Fabrication (BiFab) workforce has taken to the streets of Edinburgh in protest over the loss of jobs at three sites across Scotland.
Marching toward Holyrood in protest over the potential for around 1400 job losses, union leaders have asked MSP's to solve a row over a reported 'delayed' payment.
The row looks to be between BiFab and Dutch-owned contractor Seaway Heavy Lifting.
Unions raised fears early this week over potential job losses at the offshore engineering firm with three premises in Scotland, which is understood to have filed a notice of intention to appoint administrators.
BiFab builds equipment for the oil and gas industry at two yards in Fife and on the Western Isles, and has been active in the renewable energy sector with a £100million contract to provide jackets for the Beatrice wind farm in the Moray Firth.
BiFab workers and their families held banners which read 'Battle for BiFab' with one child's sign reading 'Save Daddy's work'.
It is understood that emergency talks are taking place and the Scottish Government are heavily involved.
On Tuesday, Scottish Minister for Business, Innovation and Energy, Paul Wheelhouse, spoke to Energy Voice, giving assurances that talks were underway with all necessary groups and that the Scottish Government  was 'keen to play our role' in protecting BiFab's multi-million contract with Beatrice wind farm.
He said:"It's obviously at the very sensitive and delicate stage but we've had one round table discussion with all the partners this morning, and with BiFab of course, and all the shareholders and participants in the Beatrice project to see what movement can be made to provide immediate support for the company and the Scottish Government is keen to play our role in that if we can.