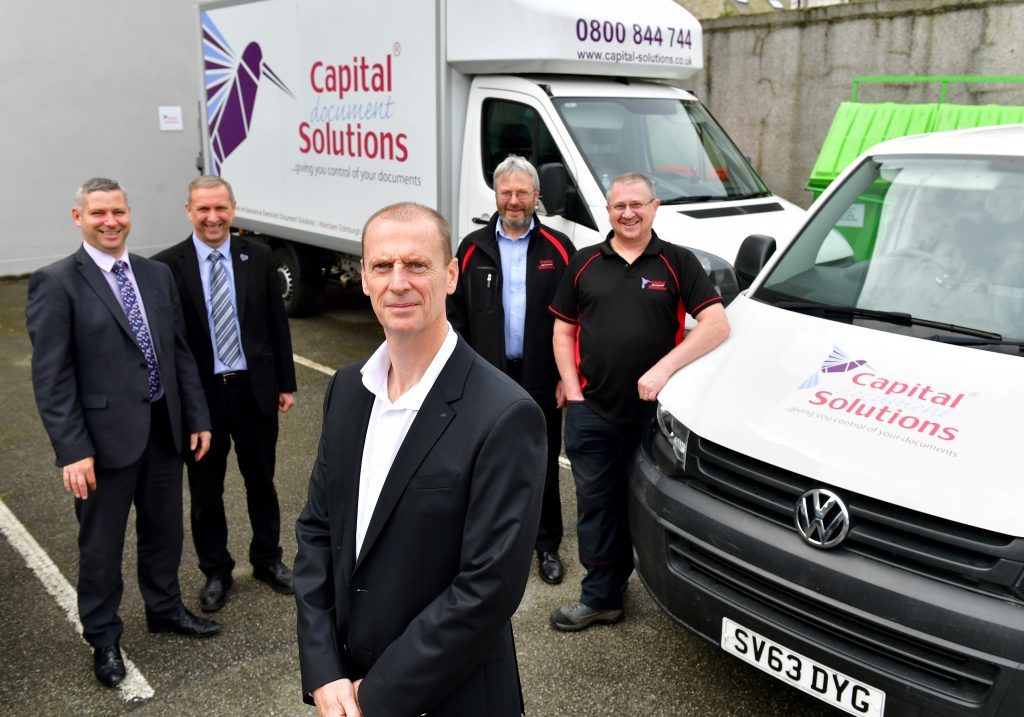 It's a well drilled unit, ready to spring into action at a moment's notice and help get sophisticated technology up and running as fast as possible.
No, I'm not talking speedy pit-stop tyre changes to get a Formula 1 racing car back on the track in double-quick time.
I am, in fact, referring to the equally impressive service and support team in the Aberdeen branch of Capital Document Solutions who are primed and ready to go at the drop of a hat whenever and wherever they are needed.
Capital is a long-established, market-leading supplier of photocopiers, printers, scanners and multi-function devices.
One recent job saw its highly experienced Aberdeen team moving quickly to help a legal firm client relocate into new offices over a weekend, with minimum disruption to its business.
Capital's Granite City branch service director Keith Ross said their response highlighted their flexibility and willingness to meet customers' requirements.
Their own logistics and IT teams looked after every detail of the uplift of the client's office printing devices from one location and making sure that everything was up and running in the new premises by the Monday morning.
Mr Ross, who has been with Capital for 22 years, said: "Our team is always ready to roll its sleeves up and get on with the job. Customer care is at the heart of everything we do.
"In this case, the client wanted to run their business in the old building right up until the close of play on Friday. The changeover went seamlessly and the five devices were good to go on time.
"We're more than happy to do evenings or weekends if required, working out of hours to help keep things running smoothly for our clients."
The 38-year-old company opened its Aberdeen branch in 2006, since when it has developed an excellent reputation for serving the office equipment needs of the offshore industry, as well as an extensive onshore client base.
It's not all oil and gas as the Granite City operation has plenty of clients from other sectors – professional services, education and food and drink – to keep its 14-strong technical and support team and five salespeople busy.
The firm's increasingly diverse customer base has helped the company amid the oil and gas downturn, while Capital continues to grow its team in the north-east and maintain its unrivalled onshore and offshore capability.
With six qualified and fully certified offshore engineers among its ranks, the firm is well-equipped to respond swiftly to meet the office equipment needs of the North Sea oil and gas industry.
The company is currently looking after nearly 260 devices on platforms and supply vessels for clients including BP, Marathon Oil, Bibby Offshore, CNR International, Wood Group, Fairfield Energy, Bluewater and Fugro.
It is also the only document solutions firm in Scotland to have an advanced registration with Achilles FPAL, a supplier management database used by operators and service contractors in the UK and Dutch offshore energy industries.
FPAL is the key tool used by offshore industry service buyers to identify and select current and also potential suppliers when awarding contracts or purchase orders.
Capital's other accreditations include ISO 27001, an industry kitemark for information security management.
The largely autonomous Aberdeen branch has grown every year since it opened in 2006.
Mr Ross said he and his team were constantly out doing installations, while the firm's success in winning a place for the third consecutive time on the Scottish Procurement Framework would allow it to continue to go after even more public sector contracts in the future.
In the past eight years of this Scottish Government Framework, Capital has secured more than 30% of contracts awarded – testimony to its capability and experience in this market.
Advances in office equipment technology have created a new generation of copy/print and scan multifunctional devices which are more reliable but still require regular servicing, not to mention professional after-sales support to help customers take full advantage of all the latest document management and security software.
"We provide a bespoke service for our customers," Mr Ross said, adding: "In some cases, we'll provide machines from more than one manufacturer. In others, it might be one type for offshore and another for onshore.
"We are always looking to stay at the forefront of this industry."
Capital's Aberdeen operation oversees satellite offices in Dundee and Shetland.
The company also has long-established branches in Edinburgh, Glasgow and Inverness.
Its Aberdeen operation accounts for around 22% of total turnover, which is currently running at about £23.5million a year.
Recent investment in the Granite City branch, which is located at Grampian House in Virginia Street, has created a bright new look and raised the profile externally.
Workshop and warehouse facilities have been upgraded, while the company has also increased its sales team and is looking to recruit more staff in Aberdeen.
"The showroom is certainly a lot brighter than before," Mr Ross, said, adding: "It's a great environment for bringing clients to view our latest office products and managed print solutions.
"The sales team can fully demonstrate the latest devices and software."
Managing director Tom Flockhart founded Capital in 1979, supplying photocopiers and typewriters from a small office in Edinburgh.
The firm moved to its 35,000sq ft of headquarters, in McDonald Road, Edinburgh, in 1988.
It now has a workforce of more than 200 people, serving the office equipment needs of all kinds of clients across the whole of Scotland.
Devices supplied and services range from relatively simple desktop machines to the latest high-tech multi-function devices capable of churning out more than a million documents a month.
Partnerships with the world's leading office equipment brands, including Canon, Ricoh, HP, Konica Minolta, Fujitsu and Laserfiche, make sure customers have access to all the latest technology.
Recommended for you

Safety equipment firm Survitec completes £270m refinancing