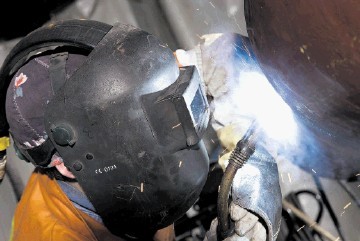 In February last year, the formal launch of OGAS (established 2012) took place at the Scottish Parliament, where its fresh-out-of-the-box director, Rulzion Rattray, outlined the potential and new opportunities made available through the formation of the academy.
The mission of the Oil & Gas Academy Scotland partners, Robert Gordon, Heriot-Watt and Aberdeen universities plus Forth Valley College and North East Scotland College (incorporating the ASET academy), is to develop a one-stop shop for accredited training and education needs of the offshore industry.
It is also about facilitating the delivery of focused "mid-career" education and training to support succession planning within the industry and particularly secure Scotland-wide relevant training and education solutions based on regional specialisms.
Pump-primed by the Scottish Government to the sum of £6.5million through the partners, OGAS already had two projects under way at the time of the launch.
One was a pilot for Shell UK & Ireland for the delivery of training and capability development of technicians through Forth Valley.
The second was the OGAS Capacity Development Project for Tanzania led by Aberdeen University in collaboration with BG Group.
But 16 months have passed since the Holyrood cocktails; what has happened since? Where does Rulzion Rattray believe he is bound with OGAS, especially given the oil price crash and its already heavy impacts on jobs and training?
OGAS was initially set up as a North East Scotland initiative; but expanded to include Forth Valley and Heriot-Watt in the Central Belt.
"I was appointed at the end of 2013 and have since then worked primarily with industry partners such as Shell Production Academy where there was a great deal of interest in developing collaborative perspectives on training and development (of people) in the sector," says Rattray.
"The view then was that training was something done in-house and tended to stay with the company rather than the individual and the thought was that we should be looking towards developing training and education based around the latter.
"To that end we initially worked on a project with Shell Production Academy and that was about training production technicians. We've run through two cohorts of training for them.
"It was always recognised that it would be a big learning exercise. It was created by Shell and Forth Valley trainers collaborating to develop the programme. Then it was credit-rated using a Scottish Credit & Qualifications framework.
ROV training
"We're now working with Oceaneering to develop training for ROV operators, technicians, supervisors. Again, the idea is that these courses will be delivered by industry but quality assured and credit-rated by the colleges and universities. And we're talking to Shell in the Netherlands."
The first Shell cohort of 12 production technicians went through early last year; the second, again 12, in November. Shell co-created the courses with Forth Valley and is said to be keen that the college takes "ownership" and makes them available to the broader market.
As for Oceaneering, OGAS is virtually at the point of credit rating a one-day electrical safety course and starting on the rating of a 30-day full-time intensive ROV technician's training programme.
Rattray recently also met with IMCA (International Marine Contractors Association) to discuss credit rating for all players in the subsea space.
"It was a lively discussion and I've been asked to go back again in August to address another meeting," he says. "One of the interesting aspects of the subsea sector is that there are currently no industry-accepted standards.
"They are obviously having a debate about this and I think the credit rating approach could play a big role in establishing robust courses that are acceptable to the whole sector and help prevent needless duplication of course."
Reducing in-house training need
Part of the Shell idea is that, if these credits travel with the individual and are to a recognised international standard this would reduce the need for in-house re-training.
Delegates would in effect carry logbooks and the qualifications therefore would stay with the individual for life.
From an industry perspective, there would apparently be two major benefits. One is that a significant proportion of people who have been working in the sector get trained and retrained, often on the same subject areas. According to Rattray, the level of engagement of those individuals as they perhaps become somewhat cynical drops.
"The fact that they could in future join a credit-rated course that stays with them and is assessed, we believe would dramatically improve their sense of engagement," he says.
"For companies it would eliminate pointless duplication, smooth the way ahead for the individuals concerned and reduce costs."
Rattray acknowledges that some parts of the offshore industry are better at training than others, in particular the drilling fraternity led by the powerful International Association of Drilling Contractors out of Houston. But how does he intend to engage with trade bodies such as this? He replies: "The model is established by the Scottish Credit & Qualifications Framework and has been available for universities and colleges for some time. The ability to credit-rate third party training courses has been available for several years. Robert Gordon University is some way down this track, having carried out a number of third party credit-ratings."
But what does the future hold for such an initiative, given the current downturn?
After all, the marketplace is changing rapidly; skills shortages appear to be evaporating and training is drying up. So what's the point of having an OGAS type initiative, especially as it looks like the North Sea industry faces a long and rough ride ahead?
Rattray: "There is still a need for training. There's succession planning . . . the baby boomers are steadily leaving the industry and gaps are emerging; moreover these gaps are happening despite the lay-offs and cost cutting efforts.
Skills gaps
"One of the key things that I have picked up is that there's been a lot of talk about the skills gap and I would argue that there still are gaps; not only in terms of bringing in new people, but there is also the need to develop the skills of people within the industry.
"We must make sure that the skills gaps are plugged properly and in a well thought out way.
"So I would argue that the credit-rating approach, through collaboration between the colleges and universities, can play an important part in moving towards courses that are accepted by the whole industry, avoiding duplication, getting higher levels of engagement by the individuals on course and reducing costs.
"This industry cannot stop training; there is a massive need; it's as simple as that. But it must get better at how it does this."
Recommended for you

ECITB boss charts path for £70m transition skills drive