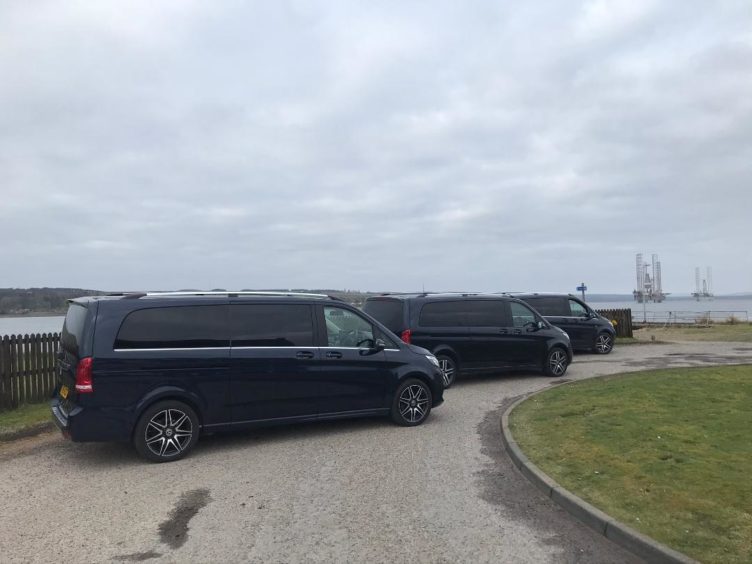 An Aberdeen chauffeur firm carried out two roundtrips of more than 1000 miles in as many days as part of efforts to help oil and gas workers during the pandemic.
Vigilant Chauffeur Services, or Vchauffeur, has spent the vast majority of its time in recent months helping offshore workers move about the country as they work to keep the lights on during the pandemic.
The firm was launched in February 2020 by Mark Cochrane, who previously spent 30 years working for Grampian Police then Police Scotland, gaining a wide variety of skills and experience and rising to middle management level before retiring at the end of 2016.
He had always had an ambition to start a business after he left the service and the idea was sparked after a friend mentioned chauffeuring during a dinner conversation.
However, it wasn't too long before Covid-19 hit, the UK was forced into lockdown and the demand for transport services waned.
Unperturbed, Cochrane pivoted the business and focus to helping the oil and gas industry, which has been working throughout the pandemic, with crew transfers and repatriation journeys.
He said: "I'd talked to a contact of mine in the oil industry about Covid transfers. The vehicles that we use are generally long wheelbase, meaning you can socially distance inside them, so I thought this would be a good area for Vchauffeur to target.
"I knew that we could put on a service, something to the level that we would have given high end customers,but do it for the oil and gas sector transferring Covid (OGUK Category A to C) personnel.
"Safety is something that we take very seriously. We chartered an HSE expert to develop our risk assessments, we've got temperature testing and we carry out a pre-boarding briefing. We've carried that out now for 10 months and done so very successfully."
The oil and gas sector has acted as a lifeline for Vchauffeur over the last year and currently accounts for around 80% of its business.
Hundreds of offshore workers have been evacuated over since the start of the pandemic, either because they've contracted the virus or have come into close contact with someone that has.
Cochrane said: "We've had to transport crew members that have been removed from platforms or vessels a number of times. From the north-east we've taken workers back to Ullapool, Wick, the west coast of Scotland and across England. We've basically covered the whole of the UK.
"These guys have had a stressful time so it helps that our drivers, who are mostly retired police officers, look professional and reassure them. We want to take the weight of their minds and alleviate some of the worries they might have.
"In the early part of the year, during the first lockdown it was surreal travelling around the country when the roads were so quiet. We certainly recognise that we're in a fortunate position being able to move about and see different sights while most are stuck in their homes, but we are providing a valuable service and that is the main thing ."
As Cochrane mentioned, serving the oil and gas industry has entailed much more than trips to and from Aberdeen Airport.
On two occasions in three days the firm had to run trips for a client from the Granite City to Cardiff
Cochrane said: "We transferred personnel down the road which resulted in a 3.45am check into a Cardiff hotel. We put two drivers on those trips for safety reasons.
"On the way back up I got a phone call to say we had another job the next day, also to Cardiff. Again I got two drivers to cover that trip. There's been a lot of late nights and early mornings and add ons to the jobs we are tasked with, but we're happy to fit around the client's needs."