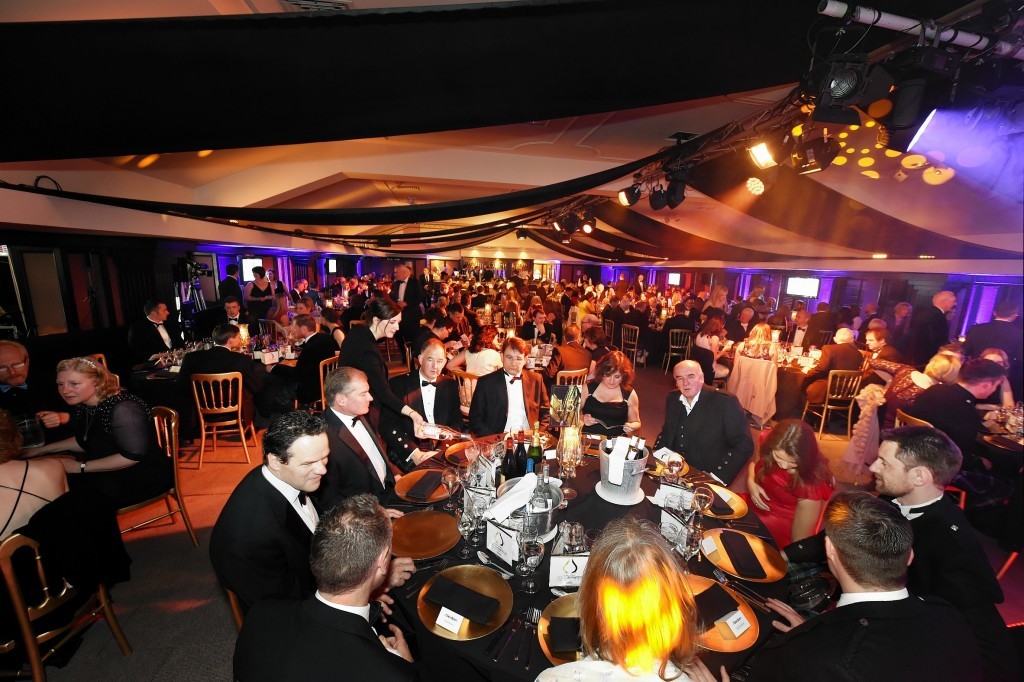 The Press & Journal celebrated the North Sea oil and gas industry's resilience last night alongside a heavy metal music icon at a glittering awards ceremony in Aberdeen.
Iron Maiden frontman and commercial pilot Bruce Dickinson enthralled the 212 guests at the second ever Gold Awards, run in association with the paper's sister website Energy Voice and title sponsor Aberdeen Asset Management.
The singer, whose band is one of the biggest heavy metal acts of all time, belted out the after-dinner speech on a night when awards were presented for seven categories and renowned entrepreneur Jim Milne CBE was inducted into the Hall of Fame.
Making his Scottish debut as special guest speaker, Mr Dickinson discussed how his firm, Cardiff Aviation, has helped regenerate parts of South Wales, and his ambitious plans to bring Zeppelin-style airships back into use.
Maersk Oil North Sea won the large company of the year award at the ceremony, which was hosted by financial journalist and presenter Steph McGovern, who is part of the BBC Breakfast news team.
The small company of the year award went to Trac Oil and Gas, while Churchill Drilling Tools and UTEC Survey both took home the prize for innovation.
Entier was named best employer and EnerQuip was highly commended for the same category. Murray Kerr, founder and managing director of SengS, lifted the trophy for emerging industry leader and EastCoast Oil & Gas won the new energy award.
Jim Milne, chairman and managing director of Balmoral Group, entered the Hall of Fame, joining last year's winner, prominent petro-economist Professor Alex Kemp.
Mr Milne established Balmoral Group in 1980 with just five employees. Under his guidance, Balmoral has flourished into a firm that employs 600 people in the design and manufacture of solutions for a range of sectors.
Jeremy Cresswell, editor of the Press & Journal's Energy supplement and a Gold Awards judging panellist, said Mr Milne's longevity and achievements in business meant he was the outstanding candidate for the accolade.
Mr Cresswell said: "I first encountered Jim, JSM to those who know him well, 26 years ago – roughly half the time he has been in business.
"He's a remarkable individual. As far as I know, he is the only son of Aberdeen – well, almost, as he was born on a farm when Tullos was agricultural land – who has been an entrepreneur for the entire history of the UK North Sea oil and gas industry.
"And yet he is still a human dynamo with remarkable drive. Incredible."
Damian Bates, editor-in-chief of Aberdeen Journals, said: "The Gold Awards are about celebrating the people, companies and communities that have helped build and sustain the North Sea's standout reputation.
"I think the night's winners encapsulate the resilience of this sector and they deserve to be recognised for their efforts.
"Jimmy Milne is incredibly deserving of the Hall of Fame award. He is a true industry pioneer, championing this industry and exposing its skills and culture on a truly global scale.
"It's so important we continue to celebrate this sector, because this industry has already written a fantastic history but we're confident that's only half the story."
Pick up the Saturday edition of the Press and Journal for an exclusive supplement filled with pictures and comments from the Gold Awards.