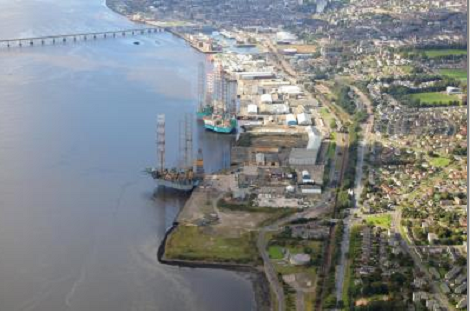 The Port of Dundee is pressing ahead with plans to grasp opportunities in the North Sea decommissioning market with the establishment of a £10million waste management facility.
Forth Ports has teamed up with Augean North Sea Services (ANSS) to open a ultra-heavy lift quayside and a 25,000 square feet material transfer facility which is expected to be in operation early next year.
The expansion plans come as warnings emerge that Scottish ports are at risk of losing out to European and Scandinavian competitors who are taking the lead in being ready to handle the massive rigs which will be decommissioned over the next three decades.
Shirley Allen, a partner with law firm Pinsent Masons in Aberdeen said: "More needs to be done to adapt ports across the UK to ensure they are equipped to manage an influx of large-scale rigs coming onshore. To put this into context, a number of Norwegian and Dutch ports will be ready as these countries tackle decommissioning in the coming years.
"We need to take the lead from our Norwegian and Dutch counterparts and garner the necessary investment to ensure our ports are ready and properly equipped to accept the decommissioned assets and also manage the environmental requirements as decommissioning begins to gather pace."
ANSS, which has operations in Aberdeen, Lerwick and, since earlier this year, Great Yarmouth, said the new disposal and waste management facility in Dundee was "fully in line with our strategy of providing complete waste services for the North Sea".
Charles Hammond, chief executive of Forth Ports, said: "This is another significant announcement for the Port of Dundee and we welcome Augean to the port.
"This new waste management facility, coupled with our multimillion pound investment in a new quayside, is important for the port which is ideally placed to service the immediate needs of the North Sea oil & gas decommissioning sector.
"The port's proximity to the skill base in Dundee along with unrivalled land space and quayside strength makes it the logical choice for large scale decommissioning in Scotland."
Augean, the Port of Dundee and Pinsents are attending the Offshore Decommissioning Conference which starts today in St Andrews.
Recommended for you

Watch: Decommissioning of Shell Curlew FPSO gets underway in Norway