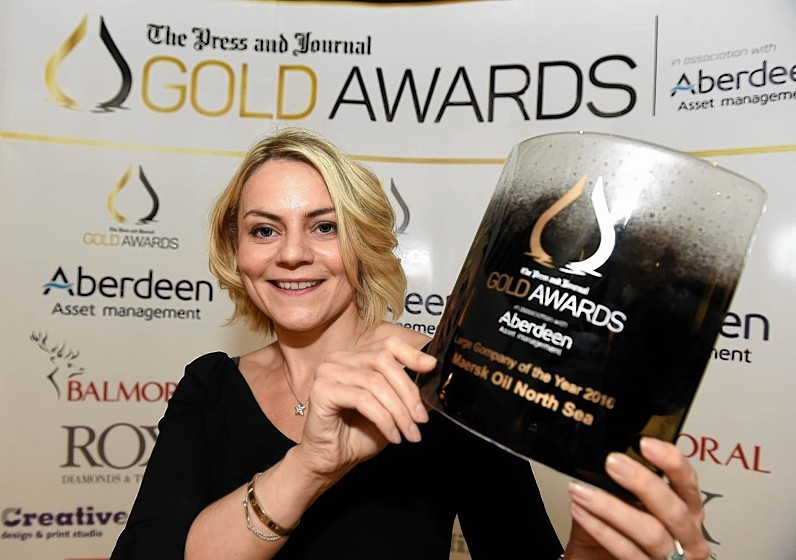 The Gold Awards for best large and small companies will once again be contested by some of the biggest and best names in the North Sea oil and gas industry.
Last year's large company of the year title went to Maersk Oil North Sea and there's a trio of likely contenders hoping to come away with the 2017 title.
Logistics giant Asco, operator Chevron North Sea and engineering firm Sparrows Group represent just part of the breadth of expertise that exists in Aberdeen, and each one of them has made its mark on the energy sector over many years.
Each one of them would also be a deserving winner of the large company award.
Aberdeen-based Asco goes into the Gold Awards celebrating its 50th year, having been around at the start of exploration for oil in the North Sea as Aberdeen Service Company (North Sea) Limited.
Founded in 1964, its flagship supply base in Peterhead was formally opened 10 years later by the then Scottish Secretary William Ross.
The company followed up in 1985 by opening an offshore supply base in Great Yarmouth, while another early milestone saw BP outsourcing its logistics operations to Asco – by then also operating out of Dundee – in 1990.
Overseas expansion took the firm to Norway and then Canada before a management buy-in, backed by investment group 3i in 1996. A move into the Americas in the noughties and a sale of the company to private-equity firm Phoenix Equity Partners in 2006 were followed by further internationalisation.
Another change of ownership in 2011 saw London-based private-equity group Doughty Hanson picking up the mantle.
US firm Chevron has been active in Europe's upstream oil and gas industry for more than 50 years and continues to advance projects designed to sustain production and increase recovery from assets in the North Sea.
Chevron North Sea has interests in 11 offshore producing fields in the UK. It operates four of these –Alba, Alder, Captain and Erskine – and has interests in seven others. Multibillion-pound developments in the pipeline include the west of Shetland Clair Ridge project, in which Chevron has a near 20% stake, and Rosebank.
Chevron also holds interests in the Shetland Island Regional Gas Export System, Graben Area Export Line and Shearwater Elgin Area Line pipelines, as well as the Sullom Voe terminal.
Aberdeen-based Sparrows Group supplies engineered products and services for a variety of industry applications, specialising in safety critical areas of lifting and mechanical handling, cable and pipe lay, and fluid power.
The firm works around the world and clock to help clients become more efficient and to ensure the performance, reliability and safety of equipment and people.
It employs in excess of 1,650 employees globally and boasts more than 40 years' experience working in the energy industry.
There are five Aberdeen firms battling it out to be crowned small company of the year: AISUS Offshore, EnerQuip, Hiretech, Trojan Crates and Well-Centric. AISUS has developed market-leading technology to maximise data accuracy and minimise inspection duration.
Its remotely operated camera technology delivers live footage for inspections at all stages of the asset life cycle.
The business was founded in 2013 by its five directors – Stuart Lawson, Matt Meredith, Martin Thomson, Andrew Johnston and Angela Milne. Launched in June 2015, EnerQuip specialises in the design, manufacture and servicing of torque machines and bucking units.
Growing demand has seen the firm open new offices in Aberdeen and the US, supporting markets in Europe, Africa, the Middle East, Far East, the Caspian, the Americas and Australia.
Hiretech, founded in 2010, is a leading independent equipment hire, sales, service and maintenance company offering pumping spreads, powered umbilical reels, hydraulic power packs and supporting equipment.
Trojan Crates has been providing timber crating and custom packing solutions to the North Sea and international oil and gas, subsea and freight forwarding industries for more than 30 years.
Well-Centric is focused on well maintenance and integrity services. It has its roots in a business founded in 2006 before a recapitalisation and rebranding in 2012.
To find out more about the event and to book tickets, click here.