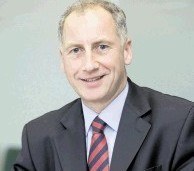 In 1985, BP's North Sea regional president Trevor Garlick started his first job with the energy firm; in Norway out of Stavanger.
His job was as reservoir engineer on the Ula field, which started producing the following year.
He was involved in perforating the first well, which went on to flow at far greater rates than had been expected.
They were exciting times, said Mr Garlick, adding: "It was brilliant. The excitement of starting the first well on the field.
"In those days you didn't have shift working, you were working 34 hours straight."
He went on to spend three years in Norway and at the end of the stint married his wife in Stavanger, a city he is still fond of.
The Ula field is also still producing today and is yet again under his oversight as BP regional president for the North Sea, a role which covers the oil giant's business across the UK and Norwegian sectors.
Recommended for you

BP hails start up of 50m-barrel Seagull project