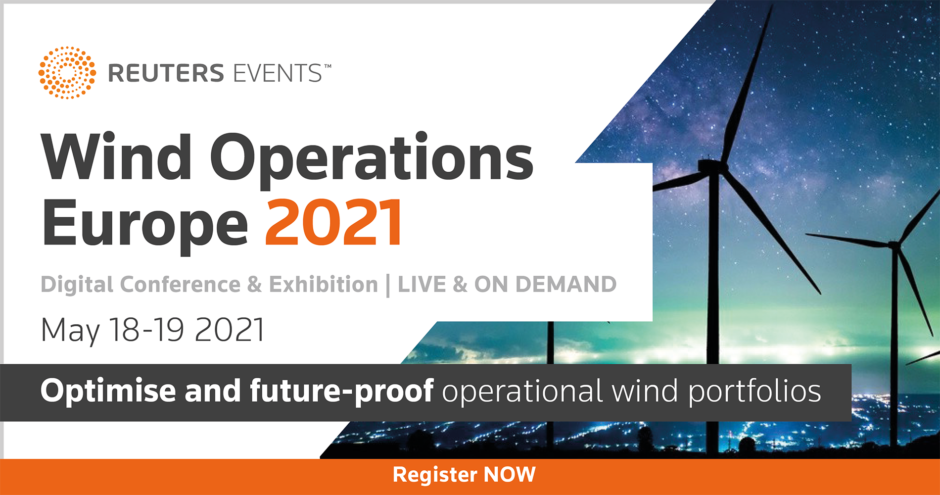 The European wind market is dynamic: offshore wind is dominating new build-out, onshore assets are changing ownership hands frequently and over 34,000 turbines are at least 15 years old, quickly approaching original life expectancy.
It is pivotal to recognise the key barriers arising now with each market movement and collaborate on strategies and solutions for the full operational life cycle of European wind assets moving forwards.
Reuters Events: Wind Operations Europe 2021 (18-19 May) unites European wind farm owners, operators, investors and supply chain, to gain critical information and business contacts to enable you to make strategic decisions now, with confidence they will deliver for your company moving forward.
Through registering for a full conference pass you will join and network with over 300 attendees including Vestas, Nordex, Goldwind, Ox2, Cubico, Foresight, Octopus Renewables, EDF, Greencoat Capital, Scottish Power Renewables, ENEL Green Power, Brookfield Renewables, ERG Renew, RWE Renewables, Total, Falck Renewables, MPC Capital, Vector Cuatro, SSE, MASDAR and many more.
In terms of the core goals and missions from this event, your full conference pass will get you:
• All Stakeholders, all assets, one place – join leaders and experts from across the full wind value chain, providing key takeaways with inputs from every aspect of an assets life cycle to implement across continental fleets and portfolios
• Practical case studies and industry leadership – the only forum to combine practical deep-dive case studies through interviews and presentation with industry thought leadership panel discussions and fireside chats
• Learn, collaborate, network – building partners is essential, participate in solutions-driven group workshops, Q&A and 1-1 networking to establish connections with industry peers and prospective partners
• Industry driven agenda – Tackling the pressing immediate and long-term questions, with carefully selected themes and discussions guiding you through today and tomorrow's challenges
Recommended for you

PD&MS wins three-year deal to support Vattenfall offshore wind farms