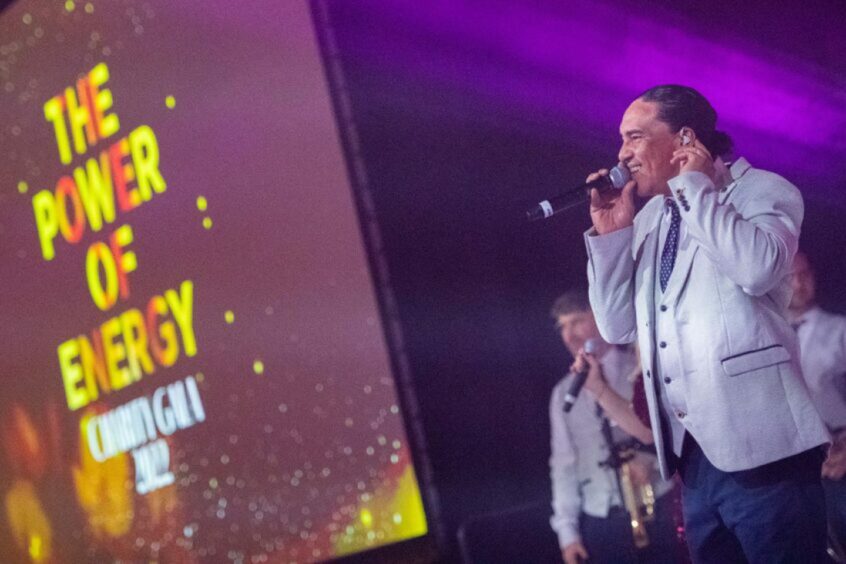 A new event celebrating the connective power of the energy industry while also raising cash for a life-saving helicopter service took place in style on Saturday night.
The Power of Energy Charity Gala welcomed over 400 guests to the P&J Live in Aberdeen on Saturday, 26 November.
The event was the evolution of long-established Energy Ball, and was hailed a huge success by organisers, sponsors and attendees alike.
The glittering gala was co-hosted by Energy Voice, the leading voice on oil and gas and renewables, alongside its new brand specialising in environmental, social, and governance (ESG) issues, Sustainable Growth (SG) Voice, along with DC Thomson-owned media partner The Press and Journal.
The prestigious gathering also raised vital funds for Scotland's Charity Air Ambulance (SCAA).
TV and radio presenter Colin Murray, who was recently confirmed as the new full-time host of Channel 4 game show Countdown, kept the audience laughing and energised throughout the night.
Likewise the internationally acclaimed 14-piece showband Club Live kept guests up on their feet and dancing the night away.
WATCH:
Ryan Stevenson, head of Energy Voice said: "Energy is the engine that has powered Aberdeen's success and evolution as Europe's thriving energy capital.
"The purpose of the night's event is to bring together the people who make the city such a vibrant and cosmopolitan destination to relax, unwind and celebrate another year of innovation, growth and achievement.
"The industry here is also leading the huge sustainability shift required to drive forward the energy transition.
"As well as providing an opportunity for our colleagues to come together and socialise, the event is a chance for us to support Scotland's Charity Air Ambulance (SCAA) and the excellent work they do."
Sir Jim Milne CBE, chairman and managing director of Balmoral Group, said: "We were delighted once again to sponsor this great occasion while also supporting Scotland's Charity Air Ambulance, a very worthy cause.
"I would like to thank everyone involved in organising the event – their power of energy was evident throughout the evening."
Matt Fryer, managing director of Brookson Group, a People2.0 company said: "It was fantastic to see the industry come together at the Power of Energy Charity Gala, to celebrate the success and talented professionals that work across the energy sector.
"We're looking forward to supporting the energy sector in 2023 as it continues to evolve and grow, by ensuring that its businesses and contractors benefit from the opportunities that the flexible workforce offers."
Fraser Carr, sales and marketing director of CALA said: "We have been delighted to support the Power of Energy Charity Gala this year at a pivotal point as our city's major employment sector continues to evolve and as the evening showed make a much wider contribution such as the support of Scotland's Charity Air Ambulance."
Tracy Clark, managing director of ITC Hydraulics and Manufacturing, said:"ITC have been supporting DC Thomson events for 10 years and are delighted to be involved with the inaugural Power of Energy Charity Gala, celebrating the significant contribution that our area provides to the energy sector.
"Thank you once again to the events team a fantastic night was had by all of ITC's customers and staff, while raising vital funds for Scotland's Charity Air Ambulance."
Bjørnar Iversen, chief executive at Dolphin Drilling said: "What a fantastic evening, credit goes to the organisers and all involved for raising such a fantastic amount for a worthy cause.
"There is certainly a buzz about the industry again and it is great to see colleagues and peers come together to celebrate the legacy of the North Sea and what it has provided to the north east of Scotland.
"There were many insightful conversations on the night, and we were honoured to be involved in the evening and look forward to much more collaborations in the future."
Luxe Scot managing director Alan Findlater said: "As we transition our own business towards energy efficiencies it is great to collaborate and enjoy our energy partners company on a social level.
"We very much look forward to continuing our support for this prestigious event along with developing new relationships on our journey towards being the recognised industry partner for luxury travel."
Below our Photographers Kami Thomson and Kenny Elrick captured the fantastic event.