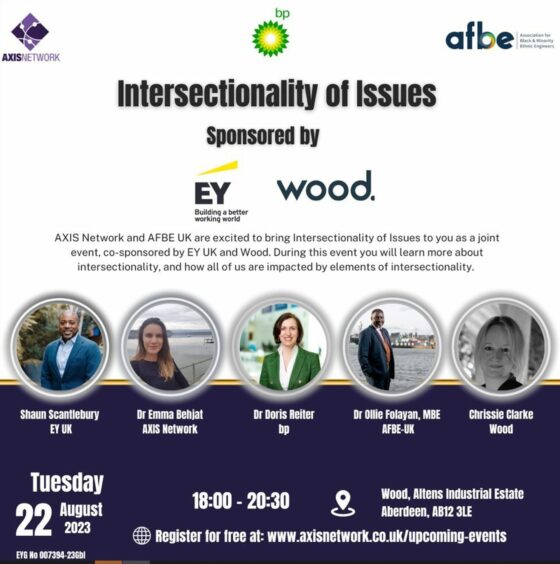 A panel event on Intersectionality of Issues is to be held on 22nd August led by AXIS Network and AFBE Scotland UK.
The event is co-sponsored by EY and Wood and shall be held from 18:00 – 20:30 at Wood, Altens Industrial Estate, Aberdeen, AB12 3LE
We are all unique, and no one person fits into a perfect box. Intersectionality of issues refers to the way that multiple forms of oppression intersect and are compounded, making it necessary to consider and address the interconnected nature of different social justice issues.
For example, poverty and structural racism are interconnected, as are ableism and sexism.
By acknowledging and addressing the intersectionality of issues, social justice movements can better understand and address the underlying causes of systemic inequalities and work towards creating more equitable societies for all.
During this event, you will learn more about intersectionality, and how all of us are impacted by elements of intersectionality.
Joining the panel discussion are: –
• Shaun Scantlebury, Partner EY People Advisory Services – Moderator
• Dr Emma Behjat, AXIS Network Vice Chair and Business Development Manager, Intertek
• Dr Doris Reiter, Senior Vice President, bp North Sea
• Chrissie Clarke, Vice President for Diversity & Inclusion, Wood
• Dr Ollie Folayan, MB, Co-Chair AFBE-UK and Head of Process and Safety, Optimus Plus Aberdeen
Due to the popularity of this event, we have increased capacity.
Please follow the link to sign up for the event Intersectionality of issues | axis (axisnetwork.co.uk)
Recommended for you

Finalists for the 2023 AFBE-UK Awards announced