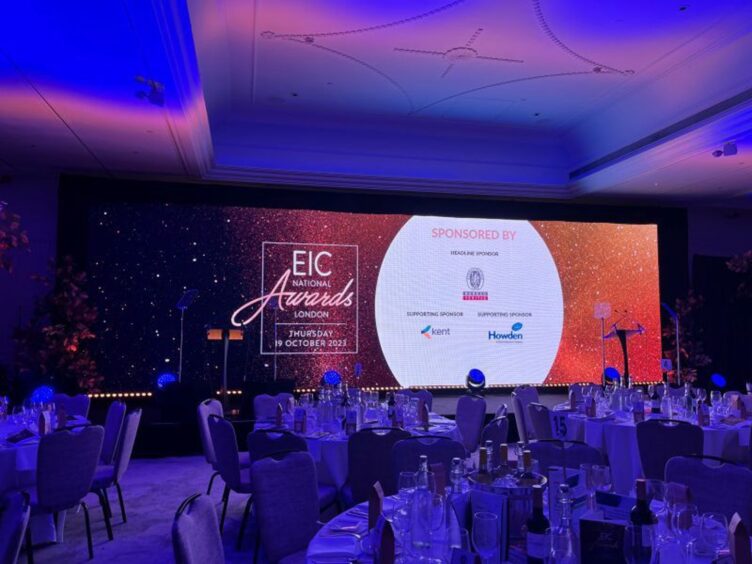 17 awards were presented to supply chain companies in categories ranging from innovation and export to digital and diversification at the Energy Industries Council event.
The Energy Industries Council (EIC) – a trade association for the energy supply chain – welcomed nearly 400 industry leaders and innovators for a night of celebration and glamour at the EIC National Dinner 2023 on Thursday evening.
Hosted by Joanna Lumley, this year's event marked the 69th edition and honoured outstanding achievements from across the energy supply chain, including renewables, nuclear, oil & gas and energy transition.
The award winners were judged by a panel of more than 70 experts from across the global energy industry. The award categories presented were the result of an in-depth survey of the energy industry, the results of which formed part of the EIC's Survive and Thrive insights report in July.
In addition to showcasing companies' efforts across different categories, the report – based on interviews with 96 EIC member company senior executives – highlighted a significant shift in the energy supply chain towards oil and gas projects due to inconsistent opportunities in green energy projects and lack of profitability.
EIC chief executive Stuart Broadley said: "The supply chain is eager to play a role in innovating net zero solutions, but the opportunities available fall far short in terms of both volume and profitability.
"We call on governments and energy policy makers to take immediate action, rallying stakeholders to confront this energy policy challenge head-on, reignite financial support for clean energy products and services, and foster an environment conducive to investment, innovation, and the growth of future, world-class, green technology export enterprises."
"The EIC National Dinner 2023, and the awards presented at it, are a testament to the remarkable achievements and dedication of the energy supply chain industry," Mr Broadley said.
"The EIC congratulates all the winners and participants for their exceptional contributions, and we remain steadfast in our mission to promote excellence, innovation, and sustainable growth in the energy sector."
The Company of the Year Award was presented to Cokebusters, in recognition of their innovative products, record-breaking technology, proven track record and future potential to accelerate energy production, process efficiency, and energy transition.
The EIC-RGU Rising Star Award was bestowed upon Stephanie Hood from Baker Hughes. The Rising Star Award aims to find and develop future leaders of the global energy industry in an age of transition, and the winner receives 100% scholarship to the globally recognised Robert Gordon University MBA programme.
See the full list of winners below:
Collaboration – Fluor
Culture – BMT
Digital – Texo Group
Diversification – Vysus Group
Energy Transition – Mott MacDonald
Export – ASCO Group
Innovation – Balmoral
Optimisation – Asset55
People & Competency – Fulkrum
Resilience – deugro
Scale Up – Vahterus
Service & Solutions – Score Group
Sustainability – Score Group
Technology – Baker Hughes
Transformation – Shipham Valves
Company of the Year – Cokebusters
EIC/RGU Rising Star – Stephanie Hood from Baker Hughes