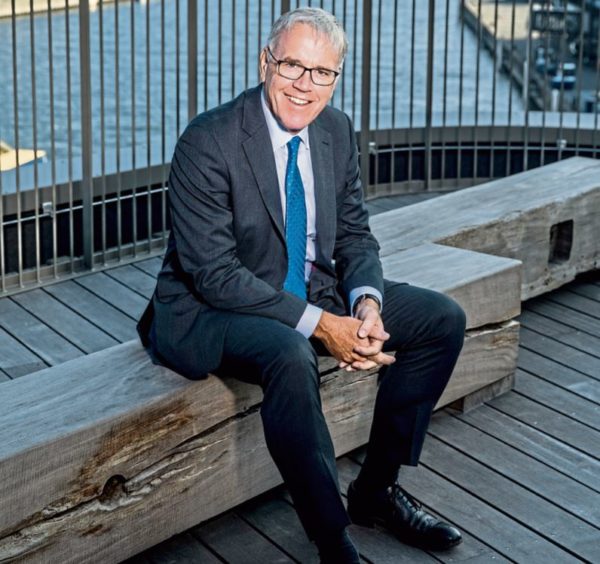 The Offshore Europe conference chairman has said there is a "strong likelihood" that climate change protesters will target the biennial showcase in Aberdeen this week.
OE organisers and the wider oil industry would welcome an "open dialogue", said Michael Borrell, Total's senior vice president, North Sea and Russia.
But that's "not often what you get" through demonstrations, he said.
Mr Borrell's career in oil and gas spans 35 years and he is "passionate" about the industry.
He is confident oil and gas companies have got some "good answers" to the questions and challenges being thrown at them by green activists.
For the first time, OE will feature an Energy Transition "hub" where operators, associations and technology companies will share insights on the efforts being made to prepare the sector for the transition.
The theme of OE2019 is "breakthrough to excellence – our licence to operate".
Mr Borrell said it was clear that climate change and the energy transition were key issues for a society thirsting for affordable, reliable and clean energy.
He said: "We're not an oil industry that's significantly in decline. We're an important part of energy and the transition and we can break through and succeed and be excellent. We can address society's needs as well as industry's needs."
Making sure companies' operations are as efficient as possible is a good place to start, he said.
Total, for example, has lowered its emissions by more than 10% over the last five years and will continue to improve, Mr Borrell said.
His company is a founding member of the Oil and Gas Climate Initiative, a group of more than 10 oil majors who intend to invest £1 billion in total over a decade on low-emissions technology.
Mr Borrell said the organisation and the fund associated with it were created due to a sense of "frustration with industry's inertia" and a desire to move the debate on more quickly.
Total is also a believer in the virtues of carbon capture and storage and wants to push the technology forward as fast as possible.
The Paris-headquartered firm is a partner in the Northern Lights project in Norway alongside Equinor and Shell.
The trio's stated intention was to carry out preliminary engineering for a storage facility as part of a full-scale CCS pilot project.
They were handed an exploitation permit by Norwegian authorities earlier this year, and Aker Solutions was chosen to deliver equipment for the subsea infrastructure.
Mr Borrell said Northern Lights would look to capture carbon from the cement and power generation industries.
He also said the project was a "real challenge" requiring significant investment, and that the partners were working with Norway to map out a route forward.
Total is also involved in the Acorn CCS project at St Fergus power station near Peterhead, which is led by Aberdeenshire firm Pale Blue Dot.
Shell and Chrysaor recently came aboard as Acorn partners and a CCS scheme in Teesside is also receiving Total's support.
In 2016 Total set a target of ensuring 20% of its business is tied to low carbon by 2035.
Mr Borrell conceded there was no getting away from the fact there would still be another 80% not linked to low carbon – Total is fundamentally an oil and gas company – although it might be more accurate to call it a "gas and oil" firm.
Total has deliberately prioritised gas production, due to a belief that gas can eliminate coal and act as a less polluting "transition fuel" while the renewables sector builds up its resilience.
The company has also been taking positions on batteries and expanding in the retail power and gas market, and converted a refinery in the south of France into a large-scale biofuel production plant.
Mr Borrell said these were important investments for Total and that the firm was stumping up serious sums every year to achieve that 20% goal.
He said: "We're a professional organisation that is also very keen to be sustainable long term.
"Part of sustainability is profitability. These businesses need to be profitable for us. That's one of the criteria as we grow our low-carbon business."
Total's North Sea division is a good exemplar of the group's push to turn investments in gas exploration and production into profit.
First gas was delivered from the huge Culzean field in the central North Sea in June following investment of around £3.5bn.
Discovered in 2008, Culzean contains 250-300m barrels of oil equivalent (boe) and is capable of covering 5% of UK gas demand.
Total took over the huge project following its £5.8bn acquisition of Danish firm Maersk Oil last year.
Despite the change of operator, Total managed to keep up the momentum, delivering first gas early and well under the original £4bn budget.
REMIT updates cited by S&P Global Platts indicate the field suffered unplanned outages due to technical glitches last month.
Once sorted, Total will carry on ramping up production from Culzean, which is a high pressure, high temperature field.
Total also owns an 8.4% stake in the giant Johan Sverdrup field on the Norwegian continental shelf, for which the first development phase is nearing completion.
And the company is progressing with the redevelopment of the Tyra gas field in the Danish North Sea, a project that was sanctioned while still operated by Maersk Oil.
Total will participate in a number of UK exploration wells in the next year or so, including a new play on the northern North Sea Alwyn field, where Mr Borrell started his career in 1986.
The Alwyn East well is scheduled for next year, while the Eni-operated Aspen well, in which Total has a 40% interest, will be drilled in the southern North Sea later this year.
Mr Borrell also expects the Isabella prospect in the central North Sea to follow "relatively soon".
The company has had more success that most when it comes to UK North Sea exploration in recent years.
Just under a year ago, Total announced the discovery of 1 trillion cubic feet of gas on the Glendronach field, west of Shetland. An appraisal well is being drilled on that field, with results to follow soon.
The company intends to develop Glendronach using infrastructure from the Laggan-Tormore production system, which exports gas to a plant on Shetland via a 90-mile-long pipeline.
Further to that success, at the end of January Total was involved in the Cnooc-operated Glengorm gas discovery in the central North Sea.
It was described as the largest UK gas find since Culzean, boasting around 250m barrels of oil equivalent.
Glengorm is close to existing installations operated by Total, including Elgin-Franklin and Culzean, and could possibly be developed as a subsea tie-back.
Mr Borrell said Total sees the UK North Sea as a mature basin, albeit one that can provide great value.
He said: "We deal with exploration as a global portfolio, so we're ranking our opportunities in the North Sea against others worldwide.
"For the moment, we continue to find good prospects that rank well in terms of value in the North Sea, and particularly in the UK, so that gives us great encouragement to build on our fantastic asset base."
Total continues to drill infill wells at Elgin-Franklin, which consistently produces high volumes for the company. Culzean is nearby and will provide a new central North Sea "hub". Mr Borrell said Total was "encouraged" by Glendronach and has designs on drilling other prospects west of Shetland.
"We're in a very nice position in the UKCS," he added.
Recommended for you

Saipem agrees to 'de-scope' Harland and Wolff NNG contract after 'delays'