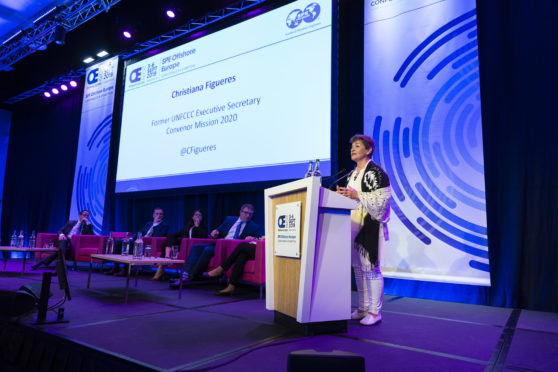 Serious investment in technology to store emissions underground is the 'only option right now' for the oil industry to cut its climate change impact.
Christiana Figueres, a former executive secretary of the United Nations' Framework Convention on Climate Change (UNFCCC), addressed delegates at Offshore Europe yesterday.
She said the industry is heading the right direction but it is still "too timid and needs to be more radical" in order to meet global targets of net zero emissions by 2050.
Otherwise, the industry's shelf life as it stands will not go beyond 30 years, she added.
Carbon Capture, Utilisation and Storage (CCUS) involves storing emissions underground, which would involve the use of former oil and gas fields.
Also speaking at the conference, Total CEO Patrick Pouyanne said it will be "fundamental" to the industry's future and could present a new business activity if the North Sea can become "a giant cave of CO2 for Europe".
Ms Figueres said the prospect of offshore wind being deployed above water in the North Sea and CCUS underground makes a "very interesting combination".
It is also important that the industry contributes to climate targets, she added, which would otherwise see it lose its social license to operate.
She added: "It seems like their only option right now is serious investment into carbon capture and storage. It is a technology that is immature and costly.
"They would have to make serious investments into that in order to strip the emissions out of oil and gas."
It comes as the Scottish Government yesterday published its programme for government, announcing it will explore options for full-scale CCUS deployment in the country.
Meanwhile Mr Pouyanne of Total echoed the call to develop the technology, highlighting that the firm is involved in projects like the Acorn CCS demonstrator at St Fergus.
He is also part of the Oil and Gas Climate Change Initiative (OGCI), a CEO-led scheme of major energy firms to decarbonise the industry, which he said would soon announce steps to develop CCUS.
Mr Pouyanne added: "I think we could think of the future of the North Sea of becoming a giant cave of CO2 for Europe.
"You have a lot of depleted fields and this could become a new activity for the supply chain. To do that we need to intensify our activity in terms of R&D, pilots and investment in CCUS.
"The OGCI will announce soon that we'll take some steps forward in developing, promoting and investing in CCUS."
Recommended for you
X

New beginnings as thousands descend on Offshore Europe