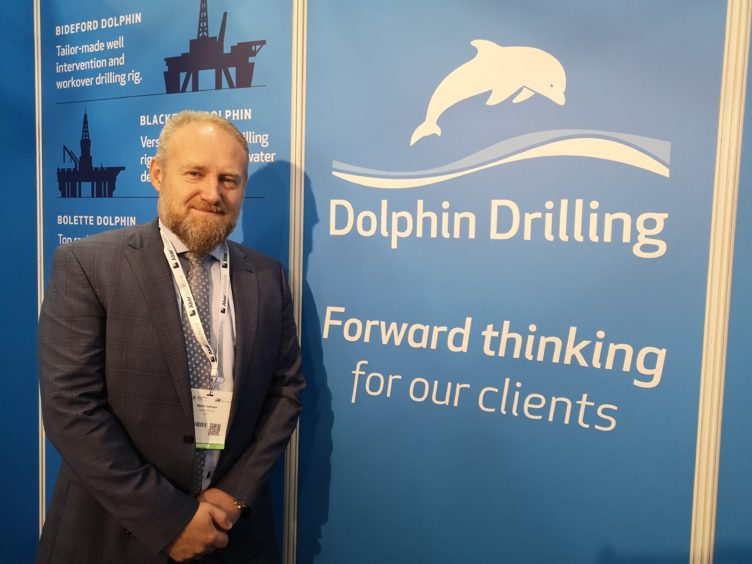 Dolphin Drilling has hailed its "rebirth" after going debt-free and picking Aberdeen as its international headquarters.
The rig operator, which has drilled in the North Sea since the 1960s, was pulled out of bankruptcy in June when new private equity owners SVP Global bought out its debt of nearly £600m.
As part of the restructuring, SVP injected "several hundred million dollars" into the firm, which has de-listed from the Oslo stock exchange and set itself up as a UK entity.
Dolphin has chosen its current premises on Howe Moss Drive as its base to build a "strong international driller".
The company employs 35 people onshore in the city, with another base in Stavanger which has around 30 workers.
Bjornar Iversen, who was installed as chief executive when Dolphin became UK-headquartered on June 26, is optimistic about the future.
He said: "There has since been a rebirth in the company. From the 26th June, when I took over as CEO, we got completely new owners in the company and Dolphin has emerged as re-emerged as one of the few, and maybe the only, debt-free driller on the planet.
"That means we have recapitalised the company, got rid of our debt, and closed down the headquarters that were previously in Oslo and moved the holdings to the UK.
"There is a lot of interest around the new company since we have good rigs, good organisation and now the cloud over the company has gone."
Dolphin has three drilling rigs and a drillship in its fleet, having success in the UK recently with its Borgland Dolphin starting work on an appraisal well two weeks ago for i3 Energy at the Liberator field in the outer Moray Firth.
The rig then has plans to work for Shell in the Norwegian sector.
The other three vessels are idle, however with the new debt-free position, Mr Iversen is confident of bringing in new work for next year.
He said: "We have a lot of interest around the rigs, we're optimistic to bring them back to work.
"A lot of our peers are struggling but we can focus on servicing the customer instead of servicing the debt.
"I think that gives us a fairly good starting point to be competitive and focussed. Instead of having meetings with banks and creditors we can have meetings with customers and plan to execute wells."
The move meant that the former Oslo base was closed down, with the 14 workers there having to "leave".
However Aberdeen was seen as a strong base to rebuild the company from.
Mr Iversen added: "Operating internationally as a drilling contractor, Aberdeen is a natural hub for recruitment, for customers and also it is a natural competence base for building the company for the future.
"I think it is a competitive advantage for the Scottish nation that you have that mix of skills, flexibility and willingness to travel. That makes it rational to have the international operations out of Aberdeen."
Recommended for you

TotalEnergies readies for Nigeria drilling