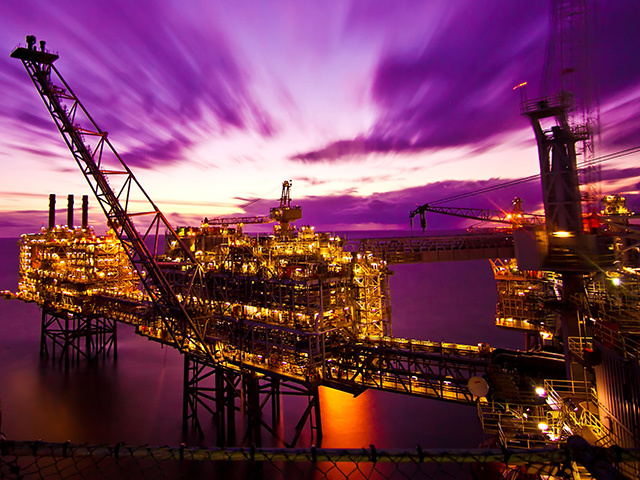 The size of the cake has dwindled for Scotland's oil industry supply chain, but the international slice is getting bigger, a business leader has said.
David Rennie, head of oil and gas at Scottish Enterprise, said the market was still tough for oil service companies, with jobs continuing to be lost.
But Mr Rennie hopes increasing confidence and activity levels will boost sales in the near future.
A new Scottish Enterprise report shows total sales – which combines domestic and international transactions − dropped by 14.4% to £19.1billion in the 2016-17 financial year.
The value of international sales was £10.4billion, down 8.2% year-on-year.
The figures were presented in Scottish Enterprise's annual oil and gas sector activity survey, launched on the opening day of the Offshore Technology Conference in Houston.
Mr Rennie said he was delighted that more than 70 companies would be on the Scotland pavilion at this year's showcase.
Aberdeen and Grampian Chamber of Commerce (AGCC) conducted the poll, taking in responses from 250 companies which are active in 111 countries.
David Rennie said: "The latest survey helps reinforce the fact that, despite the global downturn, Scotland's skills and expertise in the oil and gas industry put it in a strong position to continue winning an impressive share of the contracted global market."
He was buoyed by the fact that international sales now make up a bigger proportion of the total.
Overseas sales comprised 55% of total transactions in 2016-17, compared to 50.8% a year earlier.
Asked whether the trend would continue, Mr Rennie said: "The overall size of the cake is smaller, but the international slice is bigger."
Eight out of 10 businesses said they were optimistic about sales growth in the next two years. Just over a quarter predicted direct export sales would go up during the next five years.
At country level, the US is still the top international market for Scottish companies, while the Middle East is the region with the best growth opportunities, the report said.
Mr Rennie said Scottish supply chain companies would benefit from having greater access to export-related finance and more advice on how to export to certain countries.
AGCC chief executive Russell Borthwick said the growing trend toward branching into overseas markets showed the north-east's supply chain can be "anchored" in the region.
Mr Borthwick said: "The energy sector has long been a significant contributor to the Scottish economy and this survey tells us that despite a challenging few years we can be confident that it will remain so.
"The progress that has been made in collaboration and innovation gives real cause for cautious optimism that the UK continental shelf will remain viable as a profitable oil and gas production basin for many years to come."
Recommended for you

PM commits to new North Sea licensing, round could open next month