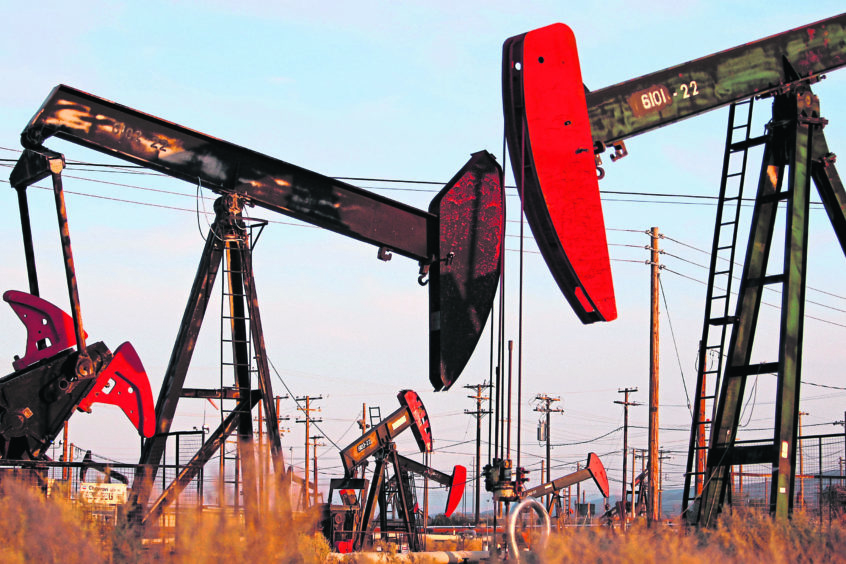 Moss Creek Resources recently set a new record for drilling a well in the Permian Basin, the onshore resource that has dramatically transformed the fortunes of the US oil and gas industry.
The Medusa Unit C 28-09 3AH well was drilled to a total measured depth of 24,592 feet (total vertical depth of 7,102ft). Total lateral length was declared at 17,935ft, or 3.4 miles.
The task took just 18 days from start to finish using conventional mud motor and measurement-while-drilling (MWD) technology and the well will be brought on stream later this year.
It is this kind of intensive drive that has transformed the US from a net importer with a lockdown on exports imposed in 2015 to a major exporter of oil in just a few years.
US production now exceeds 11million barrels per day and is predicted to pass 13m bpd next year as shale oil production climbs to around 18m bpd by 2024, before dropping back to 13m in the early 2030s.
There are three major tight oil plays in the Permian Basin that straddles Western Texas and Southeastern New Mexico.
They are Spraberry, Bone Spring, and Wolfcamp, which together accounted for 41% of US tight oil production last year.
Wolfcamp especially helped drive oil and natural gas production growth over the past decade.
Output from Wolfcamp accounts for nearly one-third of total Permian oil production and more than one-third of natural gas.
The number of producing wells at Wolfcamp has shot up from 2,200 in 2005 to 7,750 by mid-2018.
Average initial daily crude oil production per well for the first six months of operation grew from just 37 bpd to 515 bpd, while average gas production per well for the first six months of operation grew from 0.1million to 2million cubic feet per day.
Rising productivity has been driven mostly by drilling longer horizontal laterals. In 2005 the typical horizontal section of a well was some 2,500 linear feet. Last year the average was more than 8,500ft.
Well completion efficiency has also improved.
Unlike conventional fields where well productivity can be very stable for long periods, shale is different. Many more wells are needed and their productive life is short due to the nature of the tight geologies. They need frequent workovers to function.
Schlumberger chief executive Paal Kibsgaard said recently that the main challenge in the Permian is more likely to be reservoir and well performance than the current shortage of export pipeline capacity.
Mr Kibsgaard told analysts in his Q1 2019 financials briefing that the number of new infill wells in the Eagle Ford shale has reached 70% alongside "a steady reduction in unit well productivity".
He said: "In the Permian, the percentage of 'child' wells in the Midland Wolfcamp basin has just reached 50% and we are already starting to see a similar reduction in unit well productivity to that already seen in the Eagle Ford, suggesting that the Permian growth potential could be lower than earlier expected."
Not that this is putting off the majors, who are increasingly muscling in.
In recent weeks, Chevron and ExxonMobil have announced plans to crank up their Permian production. Occidental and BP are also active there.
Their approach is completely different to the E&P pioneers and mid-rankers. This is large-scale — big integrated projects that are not that price sensitive.
Exxon plans to reach 1m bpd within five years while Chevron expects to more than double its output, taking production to 900,000 bpd by the end of 2023.
Anadarko would do wonders for the shale profiles of its suitors, Chevron and Occidental. Anadarko's 2019 capital budget includes $3.15bn in spending for onshore shale.
Chevron is very keen on the Permian and, early this year, the company filed 12 drilling permit applications with the Railroad Commission for horizontal drilling and hydraulic fracturing projects on its DR State Wise Unit lease in Culberson County.
Chevron chief executive Michael Wirth said in March: "The shale game has become a scale game, and so people that can do things at large scale are the ones that really can take this to the next level."
That Permian producers have to keep 300,000 bpd of production shut in because of the lack of pipeline capacity clearly does not faze the big boys.
In any case, pipeline and rail projects are expected to bring huge relief next year.
The view is that Wolfcamp will be fully debottlenecked by the end of next year.
Wolfcamp extends across the Delaware Basin, Central Basin Platform, and Midland Basin – the three sub-basins that comprise the Permian Basin.
The stacked formation has four intervals, called benches, which are designated from top to bottom as A, B, C, and D.
Most drilling activities take place in the Delaware and Midland Basins and target the Upper Wolfcamp (benches A and B), which is more oil-rich, rather than the Lower Wolfcamp (benches C and D), which is more natural gas-rich.
Of the stacked shale formations that comprise the Permian Basin, the Wolfcamp is the deepest and thickest.
Just six months ago, that prize got a whole lot bigger, according to US Geological Survey (USGS).
Yet to be proven and technically recoverable reserves are officially the largest on the planet.
The estimate is that more than 46bn barrels of oil, 280 trillion cubic feet of gas, and 20bn barrels of natural gas liquids are trapped in these low-permeability shale formations.
That's more than twice the agency's 2016 assessment of undiscovered, technically recoverable continuous oil resources in the area.
Also, compare this to US reserves at the end of 2017.
Total proven oil then stood at about 40bn barrels, and gas was 465 trillion cu ft.
Step offshore and the reserves figures for the US Gulf of Mexico are 4bn barrels of oil and 7 trillion cu ft of gas. That's all.
The US Energy Information Administration has since credited the Wolfcamp-Bone Spring resources as a primary reason for US proved oil and gas reserves hitting all-time highs in 2017.
Of course, while reasonable conclusions can be drawn about the extent of resources identified in these basins, the estimates do not address future economic profitability, including advances in exploitation technologies and techniques.
However it pans out, this is a huge story at every level and one that delegates attending this year's Offshore Technology Conference in Houston would do well to pay attention to.
Recommended for you

Origin sells promising shale gas patch in Australia as climate pressures rise