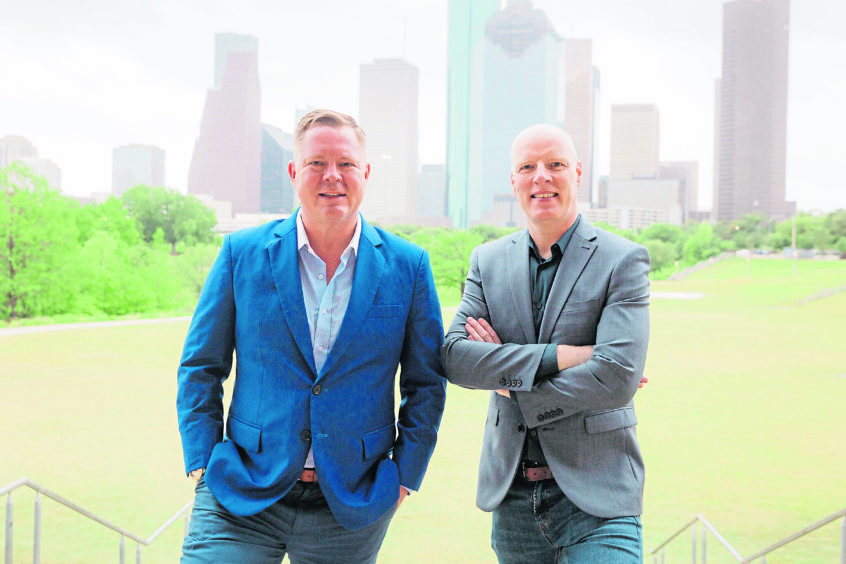 An entrepreneur who left Aberdeen for Texas almost 25 years ago has a burning ambition to put down roots for his company in the Granite City.
Tommy Sutherland, chief executive of Houston-headquartered Eutex, hopes to open an Aberdeen office in the next two years, possibly via an acquisition.
Mr Sutherland said he was "passionate" about north-east Scotland and that setting up a presence there for Eutex was one of his main objectives.
Offshore Europe is in his diary for later this year.
But before then, he will "zone in" with key clients at OTC in Houston, where he expects fellow delegates to be in a more optimistic mood than at any time since the downturn struck, almost five years ago.
The Houston chapter of Mr Sutherland's life began 24 years ago when he and life-long friend Nick Mair relocated to work for the struggling sister company of their then-employer.
Mr Sutherland, who at the time was starting to set up life in America with a young family, noticed a gap in the North American market for electrical cables and hazardous area accessories.
Eutex was born in 1998 with Mr Sutherland at the helm and Mr Mair taking on the chief operating officer role a couple of years later.
The company expanded, with offices springing up in Calgary and Singapore, its headcount exceeding 60 and revenues increasing to a pre-downturn peak of around
$30 million (£23m).
The company deals with all the major blue chip clients and has worked on FPSO builds with the likes of Modec, BW Offshore and Bumi Armada, while the firm's training division has had success, including a contract with Saudi Aramco.
Mr Sutherland said: "Across our 21 years, I am proud to say that we have built a legacy of trust, consistency and dependability, fuelled by our mission to be the number one solution provider for electrical cables and hazardous area accessories across the globe.
"Using innovation, technology and a focused team of experts has allowed us to achieve this goal by delivering value and cost-effectiveness for various clients in a range of
markets.
"Having started in the oil and gas market, our reputation has seen the business diversify into the petro-chemical, food and beverage and pharmaceutical industries."
Eutex survived four oil and gas downturns, the most recent of which creates painful memories for Mr Sutherland.
He said: "We needed the whole team to work closely together to navigate through the difficult market, and I personally had to make some of our workforce redundant.
"This was without a doubt the most challenging and emotional time for the business.
"Eutex is about a team and each person is an integral part of the business and everyone has played a part in our history and growth.
"It was therefore heartbreaking to have to lay people off to ensure the long-term sustainability of the business.
"Although an incredibly difficult period, through the hard work and diligence of the team, we were able to come out the other side, driving the business forward with a smaller team, while continuing to operate at a profit."
Eutex benefited from having built up a loyal customer base.
Indeed, some of its clients have been with the business from the very start.
Mr Mair said: "To be dealing with some of the same buyers we quoted for over two decades ago is testament to the work we do and the service we deliver.
"I thank our clients for their belief in us over the years, and our manufacturing support network and the vendors who work diligently with us to service the markets."
Eutex now has 30 full-time employees and turns over about $15m (£12m) per year, and growth is on the cards.
Mr Sutherland, who has an 85% shareholding in the business, said the market is currently gathering pace faster than at any time in the last three or four years.
He expects OTC to reflect that trend, with people reaching out more, and a lot of open discussions taking place.
Recommended for you

Gas prices: Energy firms warned government two years ago that sector was fragile