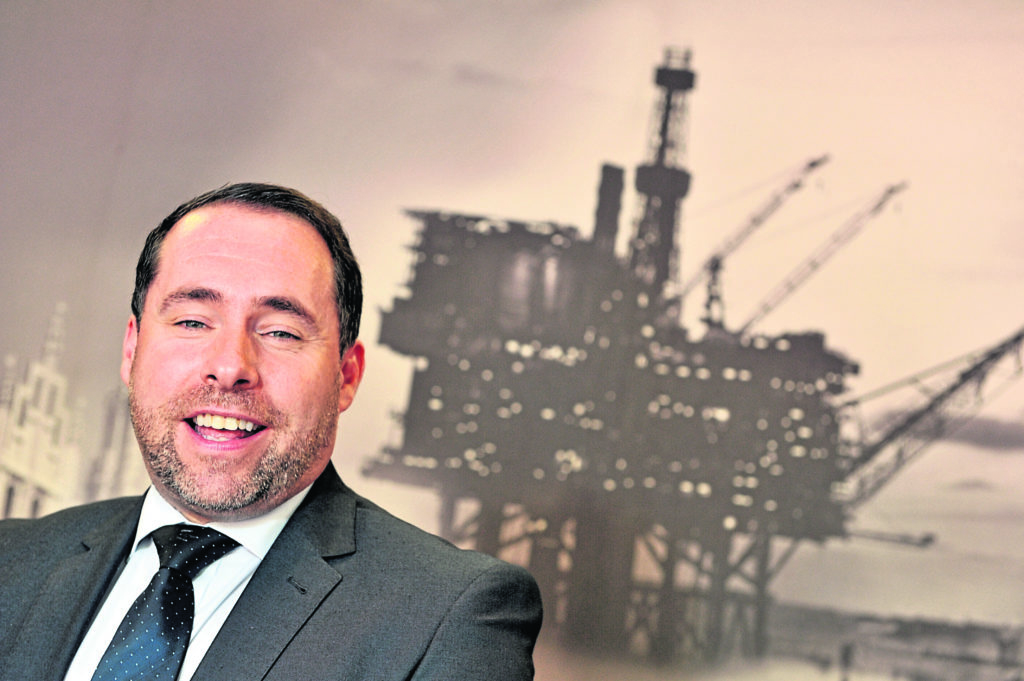 The Scottish oil and gas supply chain's diversification into other markets is "only going to continue" as the energy transition gathers momentum, a business leader has said.
The transition is a big opportunity for oilfield service firms to "grow the cake" by developing new technologies for sectors like renewables, said David Rennie, head of energy, oil and gas at Scottish Enterprise.
The oil industry is now having conversations about their carbon footprints that would not have happened as recently as six months ago, as the public and media focus more sharply on climate change, Mr Rennie said.
He was speaking after a new survey showed that a third of Scottish oilfield service firms' total domestic and direct-export sales came from non-oil-related activities in 2017-18, compared to 22% the previous year.
Non-oil and gas domestic sales totalled £2.23 billion, of which £1.31bn came from renewables, making it the biggest sub-sector.
The figures were presented in Scottish Enterprise's 18th annual benchmark of international activity in the Scottish oil and gas supply chain.
It was launched on day two of the Offshore Technology Conference in Houston.
Sixty-three percent of the respondents said they were diversifying in order to grow their businesses, while 24% said they were just trying to replace lost income from oil and gas.
Mr Rennie stressed that oil and gas would to remain "at the heart of energy supply" for years to come.
But the "diversification agenda" is here to stay and will help the supply chain ride out difficult periods and "really take on" the energy transition challenge.
Mr Rennie said: "The oil industry has developed amazing technology to get oil and gas out of the ground.
"We have the brains, the mind-set and the culture.
"Why can't we develop that approach for some of the other challenges, whether that means offshore wind, hydrogen production or maintenance in power generation?
"We can learn a lot from other sectors, but we can certainly offer a lot.
"The technology we develop for oil and gas can be transferred to other sectors.
"People in hydrogen, for example, have challenges with costs and reliability that the oil and gas sector has dealt with for many years."
Financial data used in the report covered the 2017-18 financial year, which showed total sales by Scottish oil and gas supply chain companies – a figure which combines domestic and international transactions − dropped by 3.8% to £18.4bn.
Mr Rennie said the overall reduction was "not surprising" as it took place during the "eye of the downturn storm".
International trade sank 7% to £9.7bn, but still accounted for more than half (52.7%) of total revenues, indicating that Scotland's oil and gas supply chain remains "truly global in its reach", despite the economic obstacles.
Indeed, international activity has accounted for more than half of the total each year since 2012.
The US was the biggest international market in 2017-18, accounting for £2.89bn worth of trade, followed by Norway and the Netherlands.
The picture could soon improve. Ninety-five percent of companies said they were optimistic about international growth over the next two years.
The Middle East was the top region for growth during the period under review, followed by Africa, the European Union and North America.
Over the next five years, North America and Asia Pacific are expected to present the best growth opportunities for Scottish suppliers.
The poll took in responses from 240 companies and was conducted by Aberdeen and Grampian Chamber of Commerce, whose chief executive, Russell Borthwick, said: "In my mind, what we're seeing is incredibly encouraging.
"An industry that's managed to persevere through a period of tumultuous change and which is now overwhelmingly optimistic about the future — one which continues to diversify and which still exports more than 50% of its total sales across the globe."
Recommended for you

Hiring: North Sea regulator advertises £118,000 a year decom job