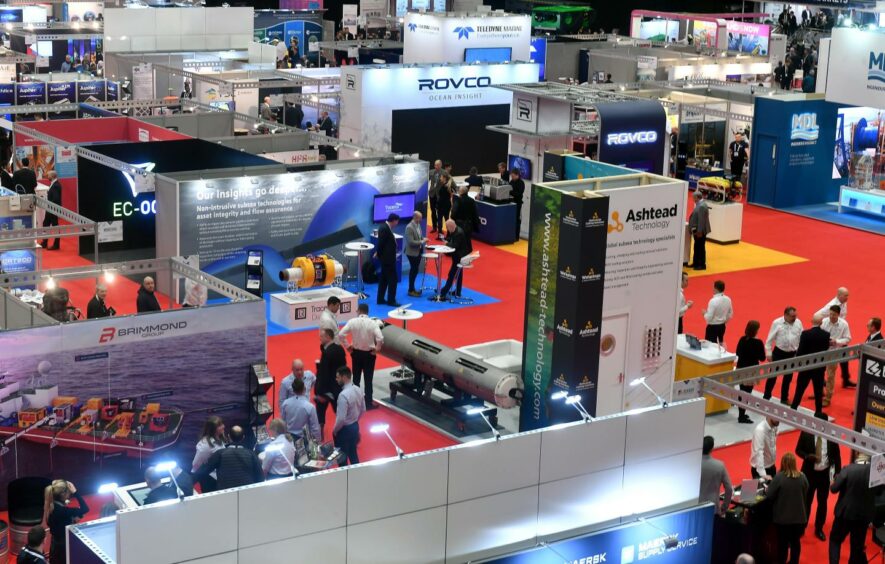 Leaders from government, offshore energy, renewables, defence and aquaculture will gather in Aberdeen later this month for a much-anticipated conference.
Organisers of Subsea Expo 2022 are making final arrangements ahead of welcoming  delegates to the Granite City's P&J Live from 22-24 February.
For this year's edition the event, the world's largest subsea exhibition and conference, will delve into the theme of 'Oceans of Opportunity'.
Attendees will set out how the UK's underwater industry can capitalise on the global blue economy, which is forecast to grow from £50 billion to £140bn by 2035.
Despite the ongoing impact of Covid-19, more than 1,000 delegates have already registered for the showcase, which is organised by the Global Underwater Hub (GUH), a new organisation which builds on Subsea UK's heritage and success.
Around 100 exhibitors are expected to attend from the subsea supply chain, including Norwegian firms IK Group, Norwegian Offshore Rental and Scantrol.
Ivan McKee, Holyrood's minister for business, trade, tourism and enterprise, will give the opening address at the flagship event.
A plenary session will then be held, hosted by Kirstin Gove, an experienced TV broadcaster and the GUH's head of communications.
The panel will be comprised of experts from the renewables, defence and aquaculture sectors who will highlight the opportunities available in these rapidly growing markets and how the underwater industry can grasp them.
Mr McKee said: "Subsea Expo provides an excellent platform for companies to discover more about mature and emerging markets and collaborate with other businesses.
"This will be key to developing solutions to challenges facing the blue economy and accelerating the green energy just transition to net zero.
"Scotland is making speedy progress towards becoming a global leader in energy transition and can play a pivotal role in helping other countries decarbonise and begin their energy transition.
"We will work with our enterprise agencies to maximise opportunities around trade and inward and capital investment."
Delegates will also hear from Sian Lloyd Rees, UK managing director of Aker Offshore Wind, rear admiral Paul Halton, director submarine support, submarine delivery agency (SDA), Royal Navy, and Neil Gordon, chief executive of the GUH.
Richard Lochhead MSP, minister for just transition, employment and fair work, will open proceedings on the second day of the event.
He will address the audience ahead of a session on opportunities for the energy transition, with presentations from Crondall Energy Subsea Ltd, Havfram, National Subsea Centre and ORION.
Mr Lochhead said: "I am delighted to be part of Subsea Expo in Aberdeen and look forward to meeting some of the companies exhibiting new and innovative technology.
"The North Sea will continue to provide Scotland with an important level of domestic energy and, crucially, the infrastructure, skills and expertise of the sector will be a huge asset in helping us to achieve net zero. The oil and gas sector will help Scotland to become a world leader in emerging technologies, such as hydrogen technology, carbon capture, utilisation and storage, and offshore wind – but also in the opportunities explored in the conference this week in the broader blue economy.
"Our first Just Transition Plan, being developed for the energy sector, will set out how the economic and social impacts of the transition will be managed. This will have co-design at its heart, meaning that, far from abandoning the oil and gas industry, those who stand to be most impacted by the transition to net zero are given a voice in determining their future."
A host of topics will be covered across the event's three days, including how the underwater industry can meet the challenges of the energy transition.
Other sessions will explore autonomous solutions, marine science and sustainability, and subsea technologies for offshore renewables with presentations from the likes of BP, Chevron, Subsea 7, TechnipFMC and Wood.
Mr Gordon said: "Our long-awaited Subsea Expo event comes at a pivotal time for the industry as we prepare for life post-pandemic and look to capitalise on the existing and emerging opportunities in the burgeoning blue economy.
"The scale of opportunity presented by the blue economy and the green recovery is unprecedented. The recent ScotWind licencing round reinforces the significant prize our industry can go after in terms of both the offshore floating and fixed wind segments.
"Subsea Expo has always offered a platform for meaningful industry discussion, cross-sector collaboration and connections. And this is needed now more than ever. We're looking forward to welcoming delegates back to our flagship event this year and harnessing the industry to achieve its full potential – one filled with opportunities at home and abroad."