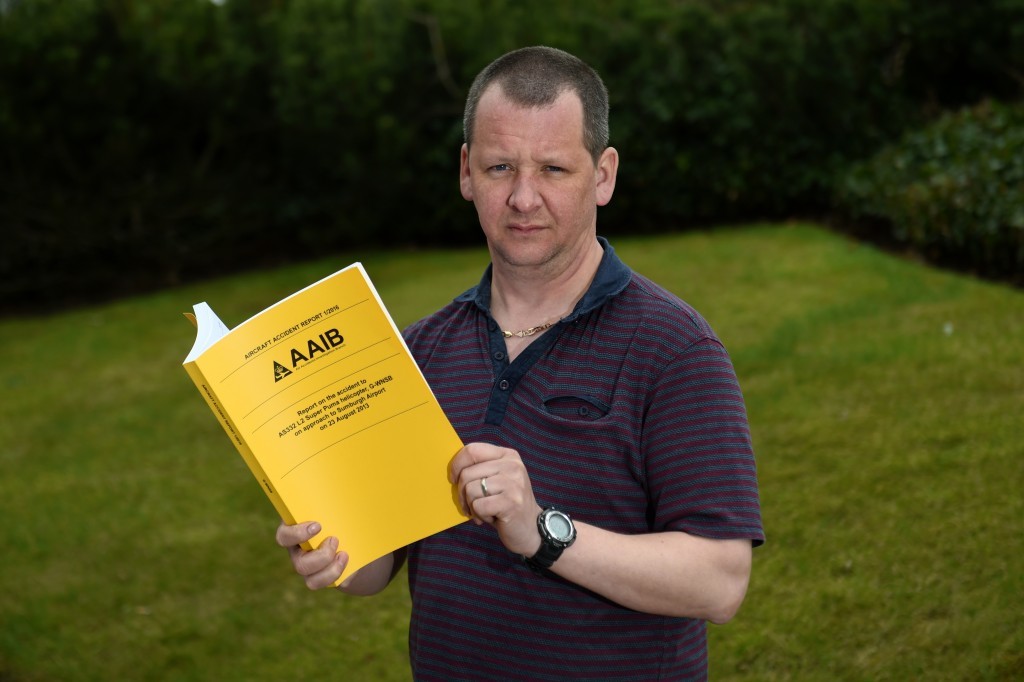 A survivor of a helicopter crash said he felt "no anger" after it was found pilot error was most likely responsible for the fatal incident, which left four people dead.
But father-of-two Martin Tosh said he still needed "closure" after the AAIB (Air Accident Investigations Branch) published their final report into what was responsible for the August 2013 incident.
The 38-year-old, who lives with his family in Kintore, spoke after survivors were briefed on the outcome of the report, which detailed a fatal 30 seconds lapse when both pilots failed to notice the helicopter's descending airspeed until it was in a "critically low energy state".
On August 23, 2013 at 5.17pm a Super Puma helicopter carrying 16 passengers and two crew crashed in the sea on its approach to land at Sumburgh Airport.
The former offshore worker said: "I can only speak for myself and I'm down in the gutter.
"I wouldn't say I feel angry towards the pilots. We're only human. I don't have anything against the pilots."
Tosh, who is still awaiting the outcome of his compensation claim, said he was "gobsmacked" to find the crash had been down to human error, rather than technical error.
Speaking of the moment his life change on board the flight, he said: "Absolutely petrifying, falling out of the sky when you're under someone else's control and you've no control yourself and you're watching the sea come closer and you're just watching everything happen around you.
"It's unbelievable. I managed to get out after trying to pull myself out. I found the strength and ability to get out of that helicopter. I managed to get the strength for my family's sake and managed to get out.
"I couldn't get my seatbelt off just, because with the shock and the fear I was struggling to get out and I couldn't.
"I managed to get the strength from somewhere and get out of that chopper."
The report also explains how the four passengers died – one in the liferaft from a chronic heart condition, likely to have been exacerbated by the stress of the evacuation.
A second managed to escape from the cabin, but drowned, while a third suffered a head injury during impact.
The fourth passenger died as a result of being unable to escape from inside the helicopter. They had tried to use the emergency breathing system.
The flight had left the Borgsten Dolphin semi-submersible drilling platform in the North Sea and was on route to Sumburgh Airport for a refuelling stop when the tragedy unfolded.
The Air Accidents Investigation Branch (AAIB) identified a period of inattention to the flight instruments starting 30 to 40 seconds from impact, and the dynamic approach profile as the immediate causes.