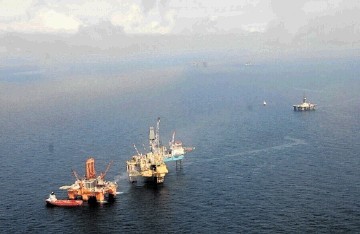 The Health and Safety Executive is investigating after a well incident during one of Total's North Sea drilling operations.
One source said a gas escaped into the new well nearly 5,000 ft downhole while it was being drilled in the high pressure, high temperature Elgin-Franklin field.
A spokesman for the French supermajor said that they had encountered "some difficulties" while drilling on the Central Graben asset.
It is understood that there has been no loss of containment from the gas and condensate field.
A spokeswoman for safety body HSE said they were aware of an issue on the platform.
However she added that it was not understood to be an ongoing situation.
She said: "HSE is aware of an incident and making preliminary inquiries."
It is understood staff on the platform are currently assessing the situation and preparing for technical work to further secure the well.
A Total spokesman said: "The well remains under full control at the surface and the situation is under continuous review.
"Wireline measurements carried out inside the drill string indicate some flow exists within the well which means part of the well may need to be plugged and abandoned."
Jake Molloy, RMT Regional Organiser, said he had been made aware of a problem on the platform.
He said: "We've heard that there is no loss of containment, it is shut in.
"It looks like they've got it under control."
It is understood that no crew were down manned as a result of the incident.
Total started gas and condensate production from the West Franklin Phase 2 project in the Central Graben area in January 2015.
The Elgin B is a secondary well-head connected by a bridge to the Elgin A.
Located approximately 240 km east of Aberdeen, West Franklin was discovered by Total in 2003.
Phase 1 production started in 2007 with two wells drilled from the Franklin platform.
Do you have more information on this incident? Contact alan.shields@ajl.co.uk
Recommended for you

DNV GL scoops up deal with Total's UK North Sea business