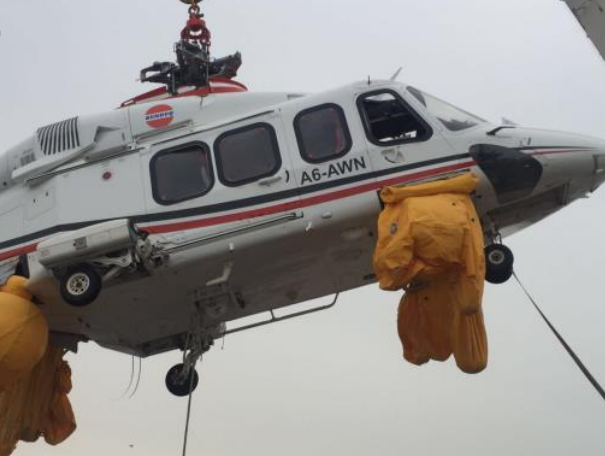 An AgustaWestland helicopter was ditched in the Arabian Gulf after engine oil temperatures soared to dangerously high levels.
The AW139 had two crew members and one passenger one board when it plunged into waters near Mubarras Island on April 29.
All three escaped uninjured from the aircraft, the UAE's civil aviation authority said in a report.
An initial investigation by manufacturer Leonardo Helicopters showed that a cooling fan had failed to work, causing the oil to overheat.
Nineteen AW139s are operating on the UK continental shelf, according to the most recent figures from Oil and Gas UK.
The aircraft stricken off the coast of Abu Dhabi got into difficulty while travelling from the Dhabi II rig to the Bunduq platform.
During a climb to 2,500ft, the crew received a warning alerting them to the fact that the oil temperature for the main gearbox was 109°C.
The normal operation temperature is about 85°C.
The pilot descended and when the temperature reached 119°C, a loud rubbing sound was heard coming from the gearbox.
He then decided to ditch the Aircraft.
After getting into a life raft, the occupants were rescued by the coast guard and taken to hospital in Abu Dhabi for medical checks.
Leonardo has been contacted for comment.