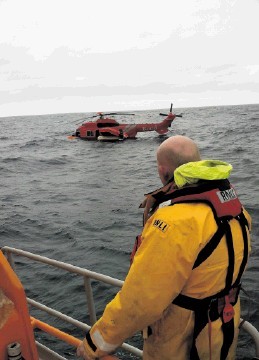 Fresh fears over the safety of Super Puma helicopters were sparked yesterday after air bosses warned the pilot's seat might not be safe.
The European Aviation Safety Agency (Easa) issued an emergency alert over a number of Eurocopter models – including the EC225 – after inspectors found a piece missing on the rear of one of the aircraft's front seats.
The fault could impair its anti-crash function, according to the Easa, and the condition could lead to pilot injury if the helicopter was to make a "hard landing" following an emergency.
But last night, the main operators of EC225's – including Bond Offshore Helicopters – said none of their aircraft contained the faulty part, and were therefore not affected by the alert.
Bond Offshore halted all flights on its EC225 fleet last week while investigations took place into what caused one of its aircraft to ditch in the North Sea.
Last Thursday, two crew and 12 passengers had to be rescued about 25 miles off the coast of Aberdeen during the third serious incident involving a Bond Super Puma in the North Sea in the last three years.
Results from an initial Air Accidents Investigation Branch (AAIB) examination of the Super Puma showed that its gearbox shaft had cracked.
But Bond resumed operations of the entire fleet of Super Pumas on Wednesday morning.
The operator said its decision followed a "rigorous" inspection of the EC225 model and the release of important data Eurocopter.
In the safety directive document released yesterday, air bosses called for the replacement of any seat found improperly welded on the aircraft.
But the main operators – Bond Offshore, CHC Helicopter and Bristow – said they had not used the faulty part.