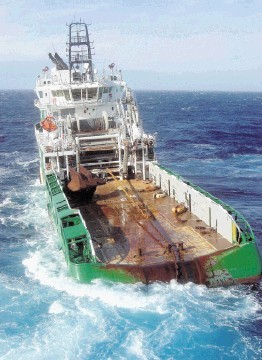 Nobody will be prosecuted over the capsize of a supply vessel off Shetland which claimed the lives of the captain, his teenage son and six other men.
The Bourbon Dolphin turned turtle when an operation to shift the anchor of a drilling rig went wrong in 2007.
An inquiry into the tragedy found safety failings by three firms – owner Bourbon Offshore, operator Chevron and rig owner Transocean – were factors in the accident.
But last night the Crown Office confirmed that none of the firms involved will face criminal charges because there is not enough evidence.
The ill-fated operation was planned and overseen by maritime consultancy firm Trident – which has also been told it faces no further action.
The Bourbon Dolphin capsized when an anchor-handling operation for the Transocean Rather turned into a disaster in the Atlantic. She was pulling a heavy anchor chain which suddenly slid across to the side of the deck and started to drag the vessel over. The two main engines stopped and seconds later the boat turned turtle. Seven of the 15 crew survived, but Captain Oddne Arve Remoy, 44, and his son, David, 14, were among the eight people who died.
The Health and Safety Executive investigated the incident and reported Transocean Offshore (North Sea) Limited, Chevron North Sea Limited and Trident Offshore Limited to the fiscal.
The Crown Office and Procurator Fiscal Service has confirmed that no further action will be taken.
A spokesman said: "Crown counsel concluded there should be no proceedings against the companies reported, due to insufficient evidence."
Bourbon Offshore was fined £500,000 in Norway because the company failed to give the ship's new captain, Mr Remoy, enough time to learn about the vessel, her crew and the complex operation. He had only 90 minutes to take over.
The commission set up to investigate the tragedy reported its findings in Norway in 2009, saying it was not possible to show an individual technical or human error was to blame.
The commission raised concerns about weaknesses in design and said the boat was not suitable for the job it was doing.