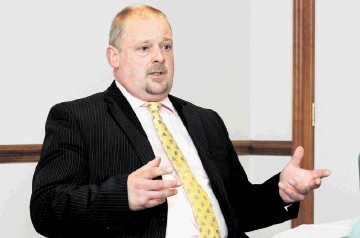 Describing how he wants to see his business performing this time next year, Malcolm Paine taps the table and murmurs "touch wood".
It's not the kind of gesture you normally get from a managing director, but then luck hasn't been on his company's side recently.
The former pilot took on the top job at Bond Offshore Helicopters at the end of May, just weeks after one of its aircraft ditched in the North Sea.
It was the second high-profile emergency involving a Bond Super Puma in three years to be caused by mechanical failures outwith the firm's control.
Mud sticks, however, and the former Royal Marine is now waging his toughest battle – to restore the company's reputation and reassure customers that its aircraft are safe to fly.
"We have had some really bad luck," he said.
"The shaft in the gearbox that failed on May 10 wasn't ours to maintain. Eurocopter (the Super Puma manufacturer) could have sent it to any company in the world, but it came to us and yet again the pictures on the front pages were of a red Bond helicopter hanging from straps at Peterhead harbour.
"I spent a few weeks thinking 'I can't believe this has happened to us', but that doesn't solve anything. The focus now is to make sure it doesn't happen again."
The last four weeks have been a baptism of fire for the new MD, who started with Bond Aviation Group as a helicopter pilot in 1989 and flew 10,000 hours offshore – often in Super Pumas.
He was there for the launch of Bond Offshore in 2003 and piloted its first official flight on June 4, 2004, moving up to director of operations then taking over from the previous MD Bill Munro on May 28.
Cut him in half and you'll find the word Bond running through him, he jokes, and it's this passion which he is now determined to channel into rebuilding confidence in the company's record.
More than 250 offshore workers and their families attended the first in a series of open days at the company's helicopter depot at Dyce two weeks ago and a team of Bond pilots made a tour of installations last week, giving presentations on safety systems, answering questions from workers and addressing concerns.
Bond representatives attended a seminar with Eurocopter and other offshore helicopter companies in France last month, at which enhanced safety measures were discussed.
The company is already taking practical steps to tighten up its own precautions far beyond the rules laid down by the Civil Aviation Authority and the aircraft manufacturers.
This includes downloading the data from its helicopters' HUMS – the health and usage monitoring systems, which pick up signs of vibration and wear and tear – after every flight. If inconsistencies are noted the aircraft is removed from service until engineers have spoken to Eurocopter and been given an assurance it is fit to fly.
Mr Paine is also talking to customers to find out what lessons Bond can learn from the rigorous safety standards offshore.
And he is determined to create a culture where everyone, from the managing director to the junior employee manning the check-in desk, has the confidence to speak out when something isn't quite right.
"I want safety to be in the DNA of everyone connected to Bond, so that everyone from the man on the shop floor up feels comfortable to say 'I'm going to stop this flight until I'm satisfied this has been checked out'," he said.
"Yes, our reputation has been damaged – unjustly – and we are going to have to work very hard to get it back, move forward and get to where we want to be, which is a world leader in helicopter safety. We are a small company, but a robust one – and we will come out of this stronger."
Recommended for you

40 years of HSE: RMT's Molloy runs the rule on North Sea safety