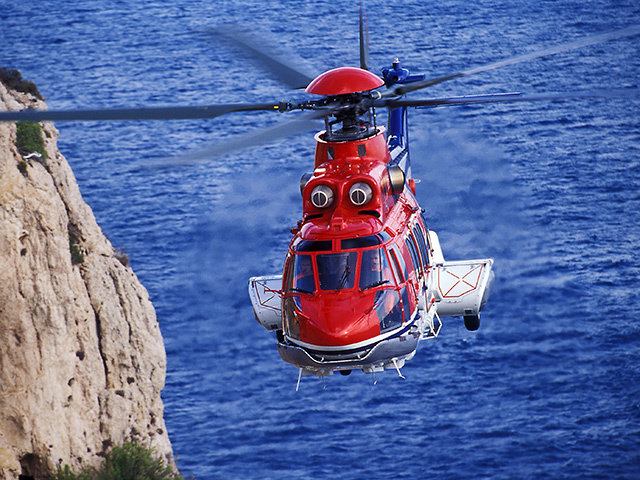 The firm which builds the grounded Super Puma helicopter has revealed they could be back in the air within days – and vowed they will never ditch again because of gearbox failings.
Eurocopter's chief executive also gave a guarantee to the 25,000-plus workers in the North Sea that the safety of the industry's workhorse EC225 aircraft had been restored.
Guillaume Faury said the company had "left no stone unturned" in its investigation into the cause of two ditchings in UK waters last year.
Speaking in Aberdeen, he said regulators were close to approving a set of measures which would prevent the Super Pumas' gear shaft cracking again.
Industry leaders said there would be no short cuts in returning the aircraft to service, and Mr Faury insisted a "belt and braces" approach meant that, whey they did resume transporting workers offshore, it would be under the safest conditions.
He said: "All the problems have been fully understood because the analysis has been absolutely comprehensive – no stone has been left unturned.  It is now a matter of days before the regulators approve a return to serve and a matter of days or weeks before the first helicopters will be ready, which will happen in very safe conditions.
"All risks of ditching due to shaft failure had been eliminated."
WATCH OUR INTERVIEW WITH GUILLAUME FAURY BELOW
Eurocopter's measures to prevent a recurrence of the gearbox problem are only temporary, but Mr Faury said an overhauled gear shaft would be available from the middle of next year.
He accepted Eurocopter's reputation had been damaged by the ditchings in May and October last year, but added: "I am personally convinced the return to service will be safe and we will be able to convince people of the effectiveness of these measures."
Eurocopter's announcement was welcomed by the Helicopter Safety Steering Group (HSSG), an industry-wide team set up by Step Change In Safety.
Les Linklater, team leader of Step Change, said: "HSSG awaits with interest the regulator's announcement of recommendations and guidelines.
"There will be no short cuts in the journey towards a return to flight for the EC225 and the workforce will be fully informed on the progress to ensure transparency."
John Taylor, regional organiser of trade union Unite, said offshore workers must be consulted before the EC225 returned to service.
"Whether Eurocopter is confident in the EC225 or not does not matter, the people who have to have confidence in it are the workers," he said.
"Eurocopter may say they are ready to fly again, but the offshore guys have to be consulted on whether they are ready to fly in them again."