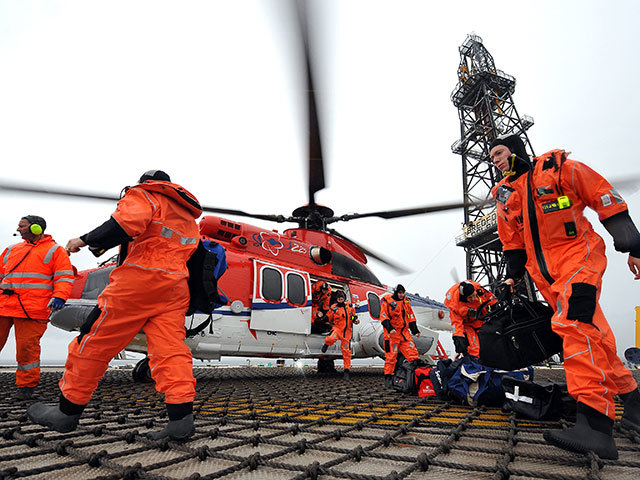 North Sea helicopter firms last night pledged to continue working to improve safety on offshore flights after a string of new measures were announced by regulators.
Major changes to operations – including a ban on travel in the most severe weather conditions – were announced by the Civil Aviation Authority (CAA) yesterday.
The body launched a "comprehensive" review after the most recent Super Puma crash – off Shetland in August – which claimed the lives of four workers.
The tragedy was the fifth major helicopter incident in four years, prompting calls for a full independent public inquiry into safety in the North Sea oil and gas industry.
Measures in the CAA report include the reconfiguration of seating arrangements – which would mean passengers would only be able to fly if they were seated next to an emergency window exit.
Click here for our Super Puma crash coverage.
And, from April 1 next year, oil workers who cannot fit through the emergency window while wearing a survival suit will not be allowed to board helicopters.
It is hoped that underwater survival time in the event of an accident would be increased by providing improved emergency breathing equipment for all passengers.
There will also be "important" changes to pilot training and safety checks on offshore platform helidecks.
 Operators will be expected to fit side floats to aircraft, add hand-holds next to push-out windows, improve life rafts and instal automatic flotation equipment.
The Offshore Petroleum Industry Training Organisation (Opito) will also be expected to improve training for workers.
CAA chairwoman Dame Deirdre Hutton said: "The steps we are announcing today will result in significant improvements in safety for those flying to and from offshore sites in the UK and potentially worldwide.
"We expect helicopter operators, the oil and gas industry and the European Aviation Safety Agency (EASA) to move forward with recommendations as soon as possible."
The review, undertaken in conjunction with the Norwegian CAA and EASA and advised by a panel of independent experts, was based on statistical analysis of reportable incidents, historical reports, studies and research.
The CAA will establish a new safety forum to ensure the recommendations are acted on.
Yesterday, North Sea operators Bond, Bristow and CHC – who have been working together on safety in the Joint Operators' Review (JOR) – welcomed the report.
A spokesman for Bond said: "All three operators are committed to ensuring that safety is never treated as a competitive factor."
A CHC spokeswoman said: "We welcome the actions and recommendations in the CAA's report, especially those that encourage standardisation in safety procedures."
A Bristow spokeswoman added: "We are closely examining the recommendations and discussing how best to take these forward in collaboration with our customers and other stakeholders."
Team leader for Step Change in Safety, Les Linklater, said the Helicopter Safety Steering Group (HSSG) would begin analysing the report today. fri He said: "Our most important priority now is how we manage the transition in a safe and orderly manner."
Read full reaction and analysis of the CAA announcement in today's The Press and Journal.
Recommended for you

DNV report shows energy executives expect escalation in cyber-attacks