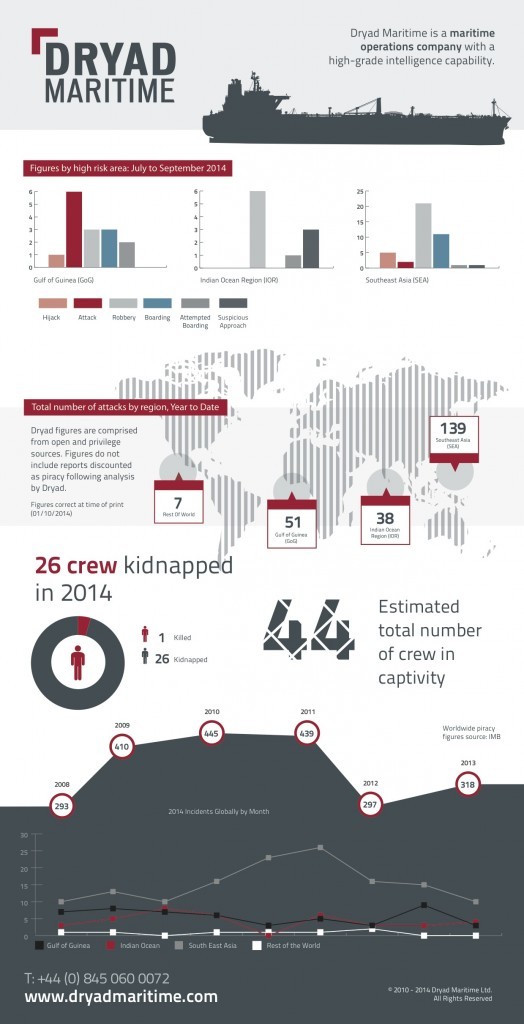 A marine intelligence company said piracy in the waters around South East Asia could rise within the coming months.
Dryad Maritime has released an infographic with figures from July to September detailing the areas of the world where hijackings have taken place.
South-East Asia in particular was highlighted as one of the area where ships being used within the oil and gas industry are likely to be at risk.
Last year there were 318 incidents of piracy while in 2012 there were 297.
Dryad Maritime chief operating officer Ian Millen said the number of attacks happening throughout the world indicates the threat to the shipping industry.
He said: "We can expect to see a continuation in incidents of boarding and cargo theft in South-east Asia and in the Gulf of Guinea as criminal groups continue to prey upon the vulnerable and the unprepared."
The report said that during the final three months of the year, Dryad expects to see an increase in boardings and attempted boardings in the northern Malacca Strait and Andaman Sea.
It said: "Criminal syndicates will continue to target small product tankers soon after they depart Singapore with the intention of stealing their cargo of marine fuel oil for the black market.
"All vessels at anchor in the major ports across Southeast Asia remain at risk of boarding by opportunistic local criminals with the target being ship stores, which are easily resold in thriving local markets."
The highest number of attacks this year to date have been in South East Asia, reaching 139 while in the Indian Ocean there were 38 attacks.
An estimate of the total number of crew in captivity for this year alone is 44.
The report by Dryad added: "Criminals have attacked three tankers southwest of Bayelsa State, Nigeria during this quarter; fortunately, all attacks were aborted after the ship's crews took effective defensive measures.
"Whether the motive for these attacks was cargo theft or kidnapping is unknown, but it has remained clear that, throughout this period, organised criminal gangs remain intent on continuing with both forms of crime.
"There have been 15 confirmed incidents reported during the third quarter of 2014 compared with 22 in Q1 and 14 in Q2. The statistics are in keeping with the number of recorded attacks in previous years."
In the Horn of Africa, the report said a lack of funding, equipment and manpower among the pirates meant there wasn't as much opportunity for attacks to take place.
Recommended for you

Singapore oil tanker missing after pirates board Off Africa