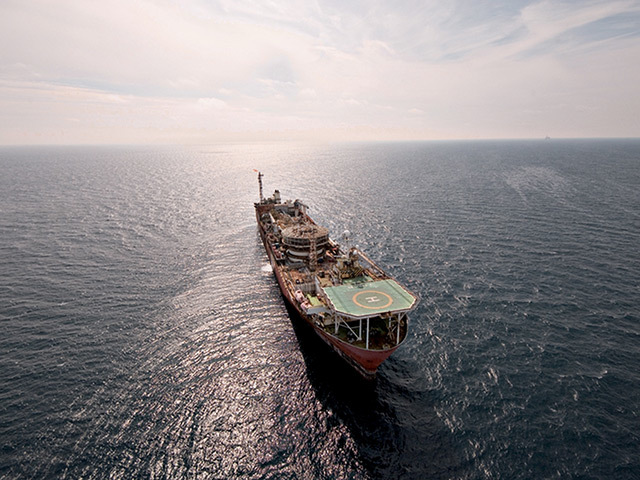 Maersk Oil has been issued with an improvement notice from the Health and Safety Executive (HSE) after deadlines overran for work on the Gryphon Floating, Storage and Production Offloading vessel in the North Sea.
A number of work orders were found to have been overdue on the vessel, which is 175 miles north east of Aberdeen.
A spokesman for Maersk Oil said it was "committed" to improving its safety performance.
The company said a "more robust" procedure for assessing and scheduling maintenance requirements would now be put in place.
The improvement notice from the HSE said following a request for work orders that were overdue, the inspector was provided with a number of overdue work orders.
This included a deadline for replacing a turret load pin which was extended from January 2014 to January 2016 as well as a number of other assessments which were extended from earlier this year to the last few months of 2015.
The notice read: "You informed me that you had not made an assessment of the risks arising with rescheduling this work, or considered any additional control measures. Therefore, you have failed to: (a) Make a suitable and sufficient assessment of the risks to the health and safety of persons that may arise as a result of the rescheduling of maintenance work orders, as recorded on your system on 21 May 2015, b) Record the significant findings of the assessment, and (c) Identify necessary control measures."
A spokesman for the HSE said: "HSE can confirm it served an Improvement Notice on Maersk requesting that suitable assessments of risk is carried out before rescheduling planned work.
"The IN has a compliance date of 22 October attached to it."
The Gryphon area comprises the Gryphon, North and South Gryphon, Tullich and Maclure fields. These fields are all tied back to the Gryphon Alpha FPSO.
A spokesman for Maersk Oil said: "We are committed to continually improving our safety performance which includes an effort to reduce our maintenance backlog.
"As part of this ongoing improvement process, we recognise the areas highlighted by the HSE and are addressing these through the introduction of a more robust procedure for assessing and scheduling maintenance requirements and have already carried out the majority of risk assessments identified, with no material change required.
"Firm plans are in place to complete this in good time to comply with the HSE's recommendations."
Recommended for you

Oil and gas companies lodge over 100 bids in North Sea licensing round