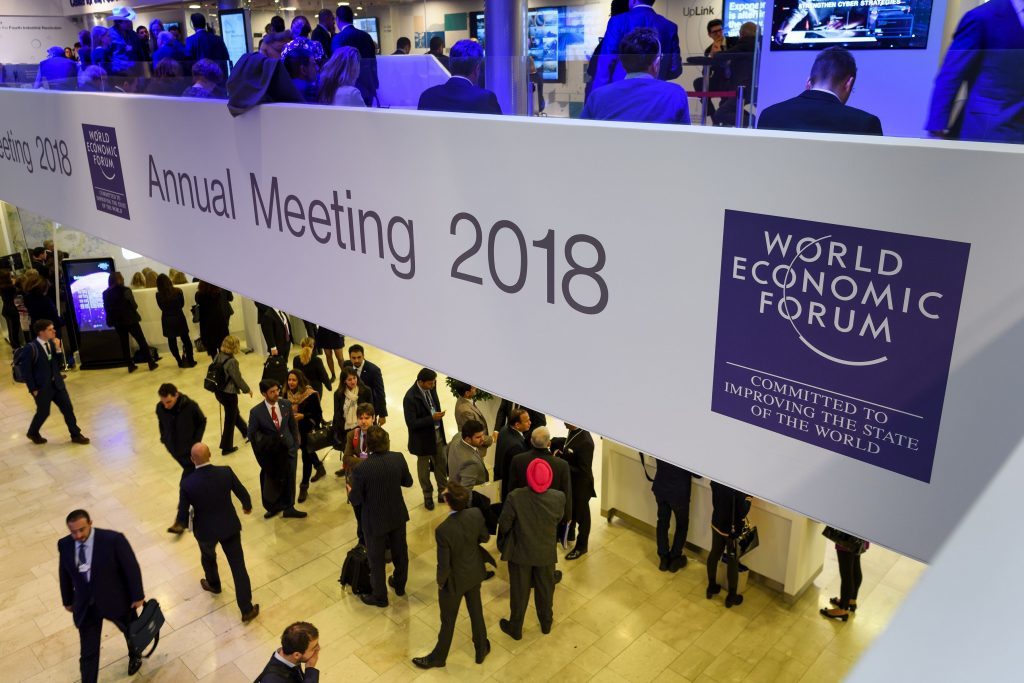 Thomas Leurent, CEO of Akselos, says the future of man and machine, the energy debate and the importance of social purpose were all standout moments for him at the World Economic Forum's annual meeting.
Think Davos and the names of politicians are most likely what come to mind. But beyond the headline grabbing speeches from some of the world's most prominent people, the annual gathering is a genuine opportunity to engage in deeper and more thoughtful dialogue. One that should question our thinking.
Optimism and a sense of purpose filled the Swiss mountain air in equal measure this year. World leaders revelled in the strength of the economy and the wonders of the fourth industrial revolution, while accepting unequivocally that climate change is one of the biggest challenges our civilisation has ever faced.
Delegates were challenged by one profound question: how do you create a shared future in a fractured world? That led to thousands of conversations covering everything from the refugee crisis now affecting 65 million people, to data responsibility and the future energy mix.
It is critically important that those of us at the cutting edge of digital technology engage with these fundamental issues and act as positive advocates for a better future.
The future of man and machine
Artificial Intelligence was on everyone's minds with many arguing that society needs to draw a line under its suspicions. A culture of fear is growing unnecessarily. Governments and the tech industry must reconsider how to demonstrate AI's overwhelmingly positive impact on humanity.
AI can never replicate human creativity. It can implement, in an intelligent and autonomous way, processes that have been created by humans. AI will augment human capability rather than replace it – freeing us up to focus our energy on creating and developing. As one prominent leader reminded us: "No one has ever come to me to tell me how much fun they have implementing processes."
In 1990 one third of the world's population lived below the extreme poverty line. Nearly 30 years later that number has fallen to 8 per cent. Countries that have invested in digital economies – notably China and India – are leading the way. We all must work harder to demonstrate that AI offers life changing opportunities for everyone in society.
The role of oil in a fractured world Commodity price speculation is a guaranteed talking point. Most of the panel at CNN's New Energy Equation session agreed that we could be confident that oil prices would remain in the $50 – $70 bracket throughout the year.
Set against a backdrop of shifting geographies, technologies of supply, uncertain demand and a global push to reduce emissions, panel members sought to balance the global conversation about the energy transition and growing investment in renewables.
Several argued that, viewed from a technology standpoint, our infrastructure is decades away from being ready for full electric supply, and that modelling from the IEA suggests the world's growing economies will drive growth in oil and gas until around 2040.
I see the logic in these arguments in some ways, but I'm not sure I agree it's as far into the future as oil-based economies would like it to be. Technology development has reached a tipping point, and digital technology in particular is accelerating the transition in a way that was unimaginable a decade ago. It's certainly not as linear as many in the panel believed.
There is an important debate around the world's understanding of oil's importance in the energy mix. While it's clearly not a long term solution, we do need to remind people that it is, and will continue to be, a vital source of energy in powering the transition to low carbon sources. And that the industry remains a key driver of innovation, many of them with direct applications in renewables.
One audience member pointed out that the rise of LNG in the USA had actually lowered emissions to levels that haven't been seen in 25 years. This seems to be at odds with much of the popular narrative.
There is much to do if we are to demonstrate that the oil and gas sector retains a critical role to play in supporting the shift to renewables.
The new normal – social purpose
Much is now being said about the emerging trend of businesses rooted in a social purpose. Leaders in the private sector are advancing innovation in a way that governments can't compete with – and that has resulted in an expectation, particularly from the younger generations, that all companies should be tackling social issues and championing innovation for the greater good.
The moonshot prize this year would go to Amazon's Blue Origin space programme and its efforts to move pollution-heavy industry into space to save the earth's atmosphere. There is a growing expectation that companies of a certain size should at the very least integrate the UN's Sustainable Development Goals into their business models.
And finally, a standing ovation
Although there is always far more to Davos than politics, the only standing ovation I witnessed was given to French President Emmanuel Macron.
Mr Macron's speech was anchored by the threat of climate change, and stressed the importance of continuing to drive globalisation in response to nationalism and protectionism in some parts of the world.
He echoed Canadian Prime Minister Justin Trudeau's comments about gender equality, and reminded businesses investing in developing countries in their 'duty to invest' in the education of young girls (among other things) within those countries.
The duty to invest in education is something Akselos takes very seriously and even at the earliest stages of our company's development, it was integrated into our business model. I am absolutely committed to growing that investment as our business grows.
Held in the depths of an alpine winter, Davos offers an invaluable opportunity to help shape our future. With a good product, it's easy to create value for shareholders, but it takes much more to create value for humanity in a fractured world.