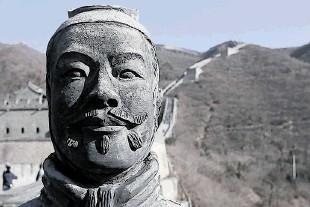 China National Petroleum Corp., the country's biggest oil and gas producer and the parent of PetroChina Co., said profit fell 52 percent as lower oil prices punished global explorers.
Profit last year fell to 82.5 billion yuan ($12.7 billion), the Beijing-based company said in a statement on its website Wednesday. The unlisted, state-owned company didn't specify whether the profit is pretax, gross or net. Revenue fell 26 percent to 2 trillion yuan, while oil and gas output rose 1.8 percent to 259.5 million metric tons, it said.
"We properly dealt with all the risks and challenges and steered the company from the model of chasing speedy expansion to a model focusing more on quality growth," Chairman Wang Yilin said in the statement.
CNPC owns oil and gas assets in politically unstable areas, including Sudan, and controls 86 percent of the listed company. PetroChina's net profit tumbled 67 percent to 35.5 billion yuan in 2015, the lowest since 1999, the company said last month. Brent crude averaged $54 a barrel last year, from $99 the year before.
The company plans to raise annual oil and gas production to 300 million tons by 2020, with more than one third of that coming from overseas, it said in a separate statement on its website April 26. The company will cap domestic refining capacity at 200 million tons over that period.
Annual refining capacity globally was 195 million tons in 2015, CNPC said in Thursday's statement, without providing a breakdown of domestic and overseas operations.
CNPC last year added 730 million tons of crude and 570 billion cubic meters of natural gas reserves in China. It didn't provide a figure for total reserves. It's pipeline network reached 80,000 kilometers (49,720 miles). The company employs 1.52 million people.
Wang said last month the company won't cut frontline oil and gas workers as it seeks to reduce costs to cope with low energy prices. CNPC was also said to be among the few state-owned companies selected for reform to become a strategic holding company.
Domestic crude production reached 111.4 million tons (about 2.24 million barrels a day), accounting for 52 percent of the country's total, according to the company. Domestic natural gas output reached 95.5 billion cubic meters, about 73 percent of the nation's total.
CNPC sold 116.3 million tons of oil products last year, 40 percent of the country's market share. Domestic natural gas sales rose 2.6 percent to 122.6 billion cubic meters.
Recommended for you
X

CHC Helicopter back this year's Energy Ball