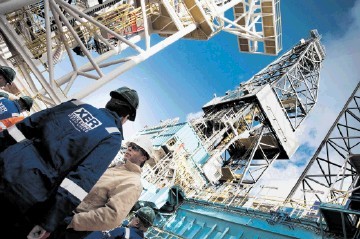 Xcite Energy said Liberum Capital has agreed to resign as nominated adviser and broker to the firm with immediate effect.
The move comes after the North Sea player suspended its trading on the AIM earlier this week.
Bondholders rejected a restructuring plan and moved to call in liquidators.
In a statement, the firm said: "In view of the proposed liquidation of the company, the company does not intend to appoint a replacement nominated adviser.
"Therefore under the rules the cancellation of admission of the company's ordinary shares to trading on AIM is expected to take place one month from today."
Earlier this week, the board of Xcite, led by chief executive Rupert Cole, had said it had negotiated a deal with the lenders whereby they would exchange 98.5% of the company's shares for 100% of the value of outstanding bonds. It had previously said that the bondholders had "unanimously" backed the deal.
The board's deal was highly unpopular with shareholders who faced seeing 98.5% of the value of their shares wiped out. Following the move by the bondholders, their holdings in the company are set to be wiped out completely. In a statement, Xcite said: "The directors believe that liquidation is unlikely to result in the return of any value to the company's existing shareholders."
Ian McLelland, global head of natural resources for Edison Investment Research, said the move to appoint liquidators meant the future of the North Sea Bentley field was "more uncertain than ever".
Recommended for you

Adnoc stakes its claim to meet the world's energy needs