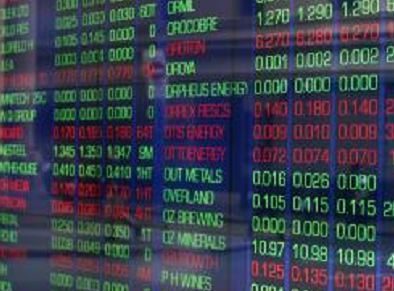 US equities advanced at the end of a turbulent week as corporate results and a rally in commodities fueled optimism in the world's largest economy. The dollar headed for its steepest weekly slide since July.
The S&P 500 Index pushed its two-day advance to 1% following the biggest selloff of the year. Crude's surge above $50 a barrel lifted energy producers amid optimism OPEC will reaffirm production curbs next week. Deere & Co. and Autodesk Inc. delivered strong results to boost industrial and technology shares. European equities pared the worst week since November. Brazil's Ibovespa rebounded 2.6% after a rout Thursday.
Outside of the equity and commodity markets, a tone of caution still prevailed. The 10-year Treasury note yield edged higher; it's down seven basis points in the week. Gold was little changed on its way to the biggest weekly rally in a month. The dollar resumed its rout versus the euro.
Market volatility eased after U.S. President Donald Trump's administration sought to move past controversies surrounding Russia that have threatened to ensnare its plans for tax cuts and infrastructure spending. Risk sentiment was also helped by better-than-expected U.S. jobless claims and regional manufacturing data Thursday.
"Following the initial excitement about the chaotic situation in the White House market participants seem to have calmed down again," analysts at Commerzbank AG including Thu Lan Nguyen said in a note to clients.
The crisis in Brazil added another layer of worries for investors. President Michel Temer has defied calls for him to step down, saying a Supreme Court probe will debunk allegations he participated in a cover-up. Meanwhile, geopolitics remained in the spotlight, amid reports that the U.S. Navy is moving a second aircraft carrier to the Korean peninsula and that Chinese jets intercepted a U.S. Air Force plane.
West Texas crude rose 1.9% to $50.30 a barrel in New York, poised for a weekly increase of about 5%, the most since March. Optimism is growing that OPEC will reaffirm efforts to drain a global glut at their meeting in Vienna on May 25. Gold was set for the biggest weekly gain in more than a month as investors weigh political risks in U.S. Bullion for immediate delivery climbed 0.5 % to $1,253.21 an ounce, on track for a 2 % advance this week. Copper rose 1.2 % to $5,646 a ton, leading most industrial metals higher as sentiment steadied after strong U.S. jobs data. Soybeans were stable after the biggest one-day drop since August as farmers in Brazil rushed to sell at a "once in a decade" pace as a deepening political crisis sent the nation's currency tumbling. The commodity was 0.5 % higher at $9.495 a bushel.
Asia
The MSCI Asia Pacific Index rose less than 0.1 %in the week, with more stocks advancing than declining. Japan's Topix index climbed 0.3 %, paring its loss in the five days to 1.3 %. The Hang Seng Index rose 0.2% and the Shanghai Composite was little changed.
Recommended for you

Oil's wild ride is driven by a disruptive band of bot traders