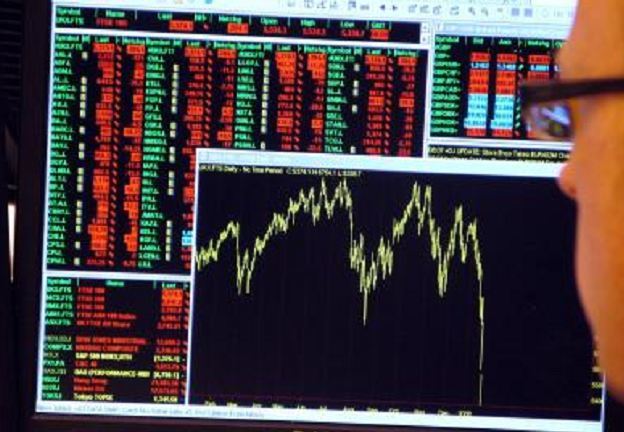 For investors in Russia's energy and metals sectors, the U.S. Senate's bill to expand sanctions was a blow. Whether it will hurt Russian companies targeted by the legislation is less certain.
The country's benchmark Micex Index of 50 Russian stocks fell as much as 3.5 percent to the lowest level in more than 15 months on Thursday, ahead of the Senate's near-unanimous vote to pass the legislation. On Friday morning, shares rebounded, with the Micex Index up 0.6 percent by mid-morning Moscow time.
The Senate bill proposes adding restrictions to banks' and energy companies' ability to raise capital, and allows for new sanctions on state-owned entities in the rail, shipping, metals and mining sectors, as well as energy pipelines. While energy and metals shares were among the hardest-hit on Thursday, the drop was only partly a response to the Senate: it also came after a sharp fall in oil prices and amid a broader sell-off of global mining stocks.
Russian companies are unlikely to feel any added sting, according to BCS Global Markets.
Russian energy companies under sanctions "have already proven they can attract funds from Russian banks or local bonds market easily," analysts at BCS including Vladimir Tikhomirov in Moscow said in a note to clients.
The brokerage said that the news over sanctions combined with low oil prices had created a buying opportunity in Russian equities. "We are buyers with a 6-12-month horizon," BCS said.
Ukraine, U.S. Election
U.S. lawmakers said they're responding to Russia's involvement in Ukraine and meddling in the 2016 presidential election. The bill would require the presidential administration to explain any moves to ease or lift sanctions, and create a new mechanism for Congress to review and block any such effort.
For energy groups such as Rosneft and Novatek PJSC, the bill would lower the ceiling for financing that is restricted under the sanctions from 90 to 30 days.
But that would only bring the debt maturity into line with that under European sanctions against Russian energy companies. And in the three years since sanctions were first imposed in 2014 in response to Russia's actions in Ukraine, Russian energy companies have adapted — raising money on the domestic market, in currencies other than dollars, and selling assets to strengthen their balance sheets.
In emailed comments earlier this week on its plans for investment in the Arctic, Rosneft said that Russian companies had learned to live with the western sanctions. "Today it can be said that Russian oil and gas companies have adapted to the restrictions under sanctions," Rosneft said.
Negative Sentiment
"Even if the law is passed, apart from the general negative sentiment, we do not see any immediate threats for Russian assets," analysts at Aton LLC, a Moscow brokerage, said in a note to clients.
William Jackson, senior emerging markets economist at Capital Economics in London, said the near-term impact on Russia's economy would be limited as Russia's largest companies have already been subject to sanctions for several years.
While the Senate bill raised the prospect of expanding sanctions to the Russian metals, mining, and shipping industries — which so far have retained their access to western partners and capital markets — it stopped short of mandating the new sanctions. The Treasury Secretary "may" impose financial sanctions on state-owned entities in those sectors, according to the measure.
The bill also targeted Russia's planned Nord Stream 2 gas pipeline, prompting swift condemnation from Germany and Austria. But the bill only says the U.S. president may impose sanctions against companies that make investments or sell goods or services to Russia's export pipelines of $5 million or more during a year.
For investors who rushed to Russia earlier this year in hopes that Donald Trump's presidency could lead to an easing of sanctions, that may be little comfort.
"For overall sentiment, this move is clearly negative," said BCS Global Markets. "It demonstrates how remote, difficult and protracted the process of normalizing U.S.-Russia relations is."
Recommended for you

Poorer nations face unrest as wealthy countries snap up fuel