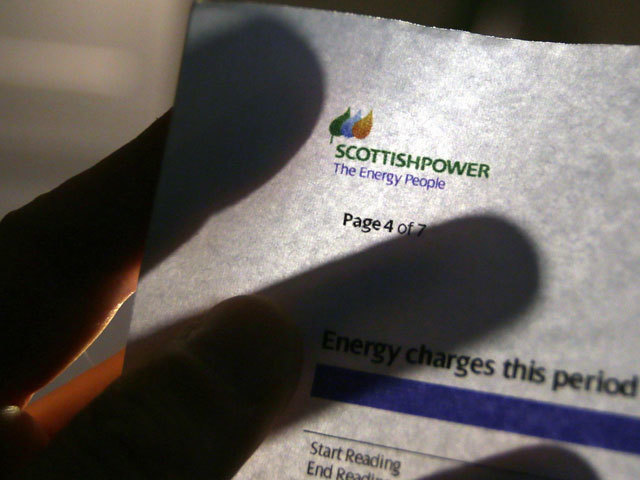 Two Scottish energy suppliers lost about 330,000 customers between them as more UK households switched away from the industry's "Big Six" to cheaper rivals.
Perth-based SSE said yesterday it shed 230,000 accounts between the second quarter of 2016 and the same period this year.
It blamed a "highly competitive" market after total customer accounts in the UK and Ireland dropped to 7.77million, from 8million a year earlier.
SSE, which raised dual fuel prices by 6.9% in April, said it also came under pressure in the first quarter as the warmer weather saw households use less gas and electricity.
Glasgow-based rival ScottishPower, owned by Spain's Iberdrola, said UK generation and supply earnings had sunk by 76% as it lost around 100,000 customers betweeen the first half of last year and the first six months of 2017.
ScottishPower's accounts total fell to 5.3million, from 5.4million.
Iberdrola said the UK supply unit had also been hit by milder weather conditions and the closure of the Longannet power station in Fife.
More than 50 new suppliers are now competing for business with the big players in the market and attracting a growing number of customers who are fed up with years of rising bills and often poor service.
The UK Government has watered down its election pledge to knock £100 off energy bills for households through a price cap, with regulator Ofgem instead consulting on a "safeguard tariff" and making it easier to switch supplier.
SSE chief executive Alistair Phillips-Davies said 2017/18 was "presenting a number of complex challenges to manage".
He added: "There continues to be significant change across the energy sector, but also opportunities for responsibly-minded businesses to contribute positively to its direction in the interests of customers and investors alike."
In its latest trading  update, SSE said competition "should be at the heart of the retail energy market", delivering a range of
tariffs, products and services.
The group held its annual general meeting yesterday, with shareholders overwhelmingly backing pay plans that awarded Mr Phillips-Davies a 72% boost to his annual pay package.
He saw his total pay soar to £2.9million in the last financial year, comprising an £844,000 salary, £910,000 bonus and £644,00 shares award from a long-term incentive plan, from £1.7million in 2015-16.
Reporting first half results, Iberdrola said ScottishPower's domestic power sales were down by about 7% and domestic gas sales off by around 8%.
ScottishPower Renewables, the Big Six provider's green energy operation, bolstered onshore wind production by 43.8% to 1,701 gigawatt-hours, thanks to better wind conditions.
Keith Anderson, ScottishPower's chief corporate officer, hit out in April over UK Government plans for a price cap on gas and electricity bills, warning it could harm competition.
He said the government should instead make the "bold move" to scrap standard variable tariffs and only use price caps as punishment for firms that fail to move customers on to better value fixed deals.
Iberdrola's group revenue rose 1.8% to £13.5billion, while net profits climbed 4.2% to £1.3billion.