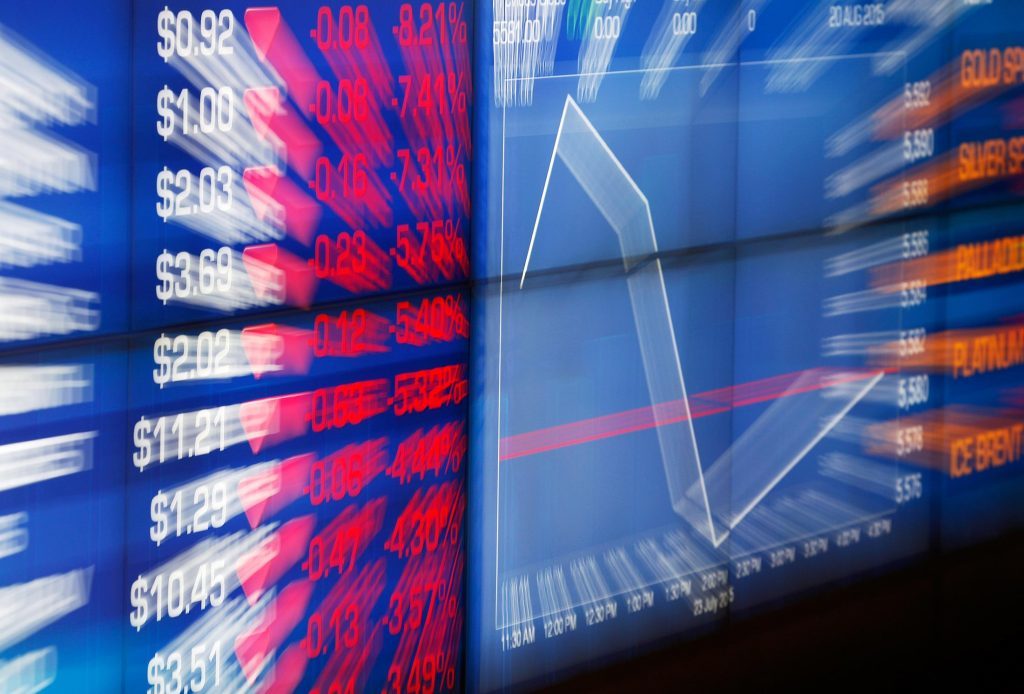 Stocks tumbled round the world after President Donald Trump's slapped tariffs on China and Chinese policy makers took retaliatory steps of their own, sparking fears a trade war could hurt global growth. Treasuries extended gains and the dollar fell.
Equity indexes from Tokyo to Shanghai tumbled well over 3 percent. U.S. stock futures also declined, signaling a further retreat for the S&P 500 Index after it closed down 2.5 percent, the most in six weeks. As investors dumped stocks, they rushed to the safety of Treasuries, where yields dipped below 2.8 percent, and the yen, which jumped past 105 per dollar for the first time since November 2016. Follow live coverage of reaction here.
Investor fears of escalating trade tensions are being realized as the U.S. tariffs quickly sparked a reciprocal response from China. Traders had already been bracing for the possibility of slowing growth as the Federal Reserve reiterated its commitment to further interest-rate increases after Wednesday's hike.
The sell-off began after Trump instructed U.S. Trade Representative Robert Lighthizer to levy tariffs on at least $50 billion in Chinese imports. Subsequently, China announced plans for reciprocal tariffs on $3 billion of imports from the U.S., including products from steel to pork. News that the U.S. is shielding some countries from steel and aluminum tariffs did nothing to lift investor gloom.
"The window from coming back from an all-out trade war is still open, but closing fast, and obviously leaves a lot of uncertainty over the next two to three weeks," said Kay Van-Petersen, a Singapore-based global macro strategist with Saxo Capital Markets. It is "classic risk-off for equities today and potentially over the next few days," Van-Petersen said.
Adding to the image of the ascendance of the "America first" faction, Trump said he is replacing White House National Security Adviser H.R. McMaster with John Bolton, a controversial foreign-affairs specialist whom the U.S. Senate declined to confirm as President George W. Bush's ambassador to the United Nations.
Oil prices climbed amid worries that Bolton would pursue a hard-line stance against Iran.
Terminal users can read more in our markets blog.
Here are some key events on the schedule for the remainder of this week:
The Bank of Russia's rate decision is on Friday. U.S. government funding is due to expire at the end of the day on Friday.
And these are the main moves in markets:
Stocks
The MSCI Asia Pacific Index sank 2.7 percent as of 4:19 p.m. Tokyo time. Topix index sank 3.6 percent. Hong Kong's Hang Seng Index decreased 3 percent. Kospi index sank 3.2 percent. Australia's S&P/ASX 200 Index decreased 2 percent. Futures on the S&P 500 Index fell 0.4 percent.
Currencies
The Bloomberg Dollar Spot Index fell 0.2 percent. The Japanese yen rose 0.4 percent to 104.84 per dollar. The euro rose 0.3 percent to $1.2343.
Bonds
The yield on 10-year Treasuries fell one basis point to 2.81 percent. Japan's 10-year yield declined one basis point to 0.025 percent. Australia's 10-year yield declined five basis points to 2.655 percent.
Commodities
West Texas Intermediate crude rose 1.1 percent to $65 a barrel. Gold rose 1 percent to $1,342.43 an ounce. LME copper fell 0.2 percent to $6,684.00 per metric ton.
Recommended for you

Market Wrap: Recession concerns push oil lower and whipsaw stocks