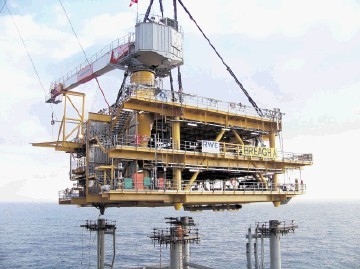 Oil and gas explorer Sterling Resources wants to sell off its remaining stake in the North Sea Cladhan field and a chunk of its Romanian exploration acreage.
Yesterday's announcement was made as the firm, which has offices in Aberdeen, said the Breagh gas project in the southern North Sea was facing yet another cost increase.
Breagh, in which it has a 30% stake and is operated by RWE Dea SNS, had been due on stream this month, but has been put back until the year-end.
Costs on the project, which RWE said in March had already risen from £485million to £566million, were estimated by Sterling yesterday to be £600-£610million – adding about £10-£13million to its bill.
The first phase of the Breagh development has faced issues over modifications needed at the Teesside Gas Processing Plant, where gas from the field would be piped for processing.
Sterling also said equipment for the plant had been damaged during shipment and there had been problems over "management of the design of the works".
It added, however, that early drilling results from the Breagh Alpha platform, installed earlier this year, had proved positive, with thicker-than-expected gas reservoirs.
The field has been estimated to contain 28million barrels of oil equivalent. Sterling said the rise in costs would be covered by a £10million overrun facility in a reserves-based loan it has.
It added, however, that it had launched a process to sell its remaining 26.4% in the central North Sea Cladhan field and 65% stakes in its high-impact Midia and Pelican licence blocks off Romania.
Earlier this year Sterling sold a 13.5% stake in the Cladhan field to Taqa for an initial £29million, taking its holding to 40.1% and seeing Taqa agree to take over operatorship.
Sterling chief executive Mike Azancot said yesterday: "An updated estimation of the Breagh project cost overruns has been made with first gas date still planned in the fourth quarter 2012. We expect to complete these sales before the end of the year, which, will enable us to undertake a material step up in our exploration, appraisal and development activity internationally in 2013."
Sterling, listed in Canada, has exploration acreage in the UK, France, Romania and the Netherlands.