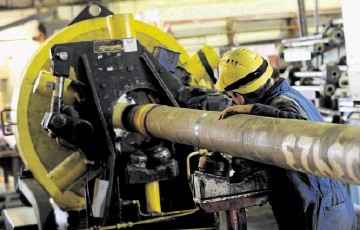 Aberdeen company Broad Cairn is targeting a near-50% rise in turnover this year of on the back of expansion at its three operating divisions.
The nine-year old energy service group comprises QTEC International, CairnToul Well Equipment Services (WES) and CairnToul Tubular Services (TS).
Combined, the businesses are expected to produce turnover of £15million during 2012.
This is a substantial increase from the £10.6million reported last year, which itself was a big rise on the £6.8million seen in 2010.
The workforce now totals 151 people, which is up by about 70 from a year ago and is expected to rise further as the Broad Cairn subsidiaries deal with growing demand for their services.
QTEC, which opened new offices in America last year, is expected to double its headcount to about 40 during 2012.
Broad Cairn said CairnToul WES and CairnToul TS, established last year after the group acquired a machine shop at Bridge of Don from Scomi Oiltools and the onshore inspection arm of Apex Tubulars, were also performing well.
It added that the well-equipment division grew turnover by 50% to more than £5million last year as a result of it winning new contracts and developing services.
Broad Cairn chairman Colin Manderson said: "Demand grew substantially in America for QTEC International's services, leading to it opening offices in Louisiana and Texas.
"The other major development last year for the Broad Cairn Group was the acquisition of the two elements of CairnToul Tubular Services.
"We are currently upgrading these businesses and introducing management processes to ensure consistency across our companies.
"We are committed to establishing a portfolio of complementary oil and gas service companies that can each provide operators and contractors with sustainable and independent services which improve efficiency and integrity."