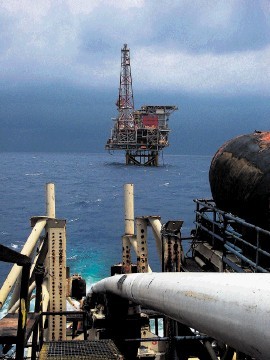 Official forecasts for future North Sea oil and gas revenues have been slashed.
The Treasury will receive billions of pounds less from the offshore sector than was being predicted just a few months ago, according to the latest estimates from the Office for Budget Responsibility (OBR).
An expert said last night that the new projections were "significant" and attributed it chiefly to drops in North Sea production caused by unplanned stoppages as offshore platforms and pipelines age.
Oil price falls and tax deductions linked to major recent investments in the sector were also put forward as explanations.
The figures triggered a fresh political war of words over the economy of an independent Scotland last night.
Yesterday's OBR revenue forecast for 2012-13 was £7.3billion – downgraded from £9.6billion in March.
A similar reduction was projected for 2013-14, with revenues now expected to be £6.7billion, compared with £9billion in March. And the forecast for 2014-15 has been cut from £8.3billion in March to £6billion.
Leading oil and gas economist Professor Alex Kemp, chair in political economy at Aberdeen University, admitted it was a "big reduction". He told the Press and Journal: "What they are saying is that they have reduced their production estimates quite a lot. Production did come down this year and last year.
"In our modelling, production can come back up in future years. They may be factoring in something that we didn't – these unplanned shutdowns in fields.
"We are all hoping that there won't be as many unplanned shutdowns. They may be taking a more pessimistic view – that these problems in old fields may continue."
The gas leak on Total's Elgin platform in the North Sea earlier this year caused a major shutdown.
Last night, opponents of Scottish independence seized on the figures.
A Scotland Office spokesman said: "These figures highlight the danger of planning a post-independence economy on a volatile and decreasing commodity.
"This volatility can be much more easily managed across the UK as a whole with its larger and more diverse fiscal base."
A spokesman for Scottish Finance Secretary John Swinney said: "North Sea oil is a massive resource for Scotland, with 24billion barrels with a wholesale value of £1.5trillion still to be extracted in the decades to come – and an independent Scotland will be able to put this huge wealth to best use to create a wealthier and fairer country."
Recommended for you

North Sea tax receipts now top £22m per day according to new research