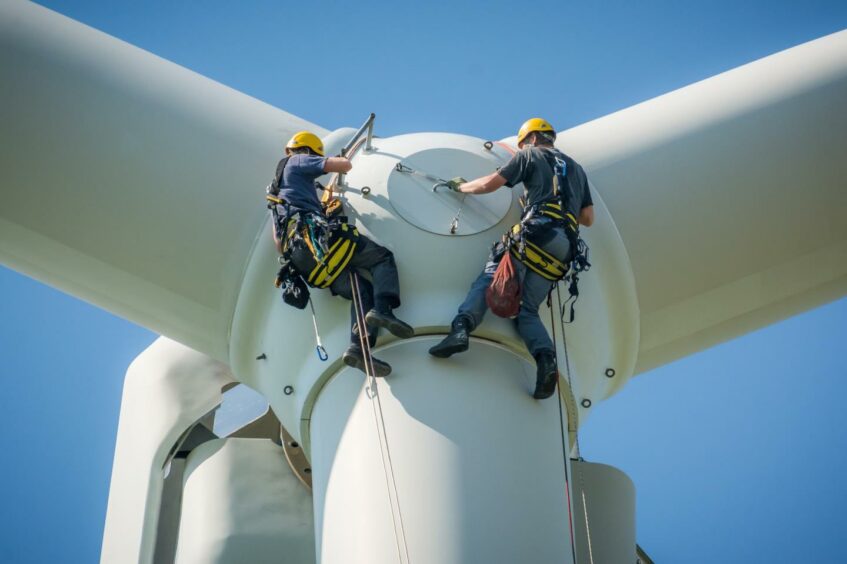 Schroders has announced a £358million deal to acquire 75% of Greencoat Capital, one of Europe's largest renewable energy infrastructure managers.
Greencoat Capital has £6.7billion worth of assets under management, including a portfolio of more than 40 wind projects in the UK.
Schroders, the multi-national asset management company, said the move would enhance its "leadership position in sustainability".
The pair said they have an ambition to be a "global leader" in this investment sector, with Greencoat providing significant growth opportunities towards net zero, with US and European renewable energy assets forecast to grow by more than $1trillion to 2030.
Schroders said there is also "significant and accelerating institutional client demand" for environmentally positive products to meet their own sustainability commitments.
The move follows a huge focus on climate finance during the COP26 climate conference in Glasgow.
Glasgow Financial Alliance for Net-Zero (GFANZ), the alliance set up by former Bank of England governor Mark Carney, announced during the conference that 450 firms with assets of $130trillion had committed to net zero.
Peter Harrison, group chief executive of Schroders, said: "Its culture is an excellent fit with ours and Greencoat's focus aligns very closely to our strategy, continuing our approach of adding capabilities in the most attractive growth segments we can provide to our clients.
"We have demonstrated our ability to integrate acquisitions successfully, to generate growth and create significant value for our shareholders. We are confident that we will be able to leverage the strengths of both firms while preserving Greencoat's differentiated position in the market."
Established in 2009, Greencoast is a specialist manager focussed on renewable energy infrastructure investing, operating nearly 200 power generation assets in the UK, Europe and the US.
The portfolio, which covers wind, solar, bioenergy and heat, includes projects in north-east Scotland including the Kildrummy wind farm in Aberdeenshire, and the Stroupster Wind Farm further north near Caithness.
Richard Nourse, who founded Greencoat in 2009, said: "We are all delighted to have found a partner in Schroders who sees the potential of our business and believes deeply in our mission to build a global leader in renewables investing. We are extremely proud of what the brilliant team at Greencoat has together achieved, creating a market-leading renewables asset management firm in the UK and Ireland, a strong platform in Europe and an important expansion into the US.
"Combining this team with Schroders' global distribution network and expertise will enable clients to capitalise on the unequalled opportunity that our sector represents – a trillion dollar investable universe – and the chance to meaningfully support the global transition to net zero."
Recommended for you

px Group launches energy solutions unit to help asset operators decarbonise