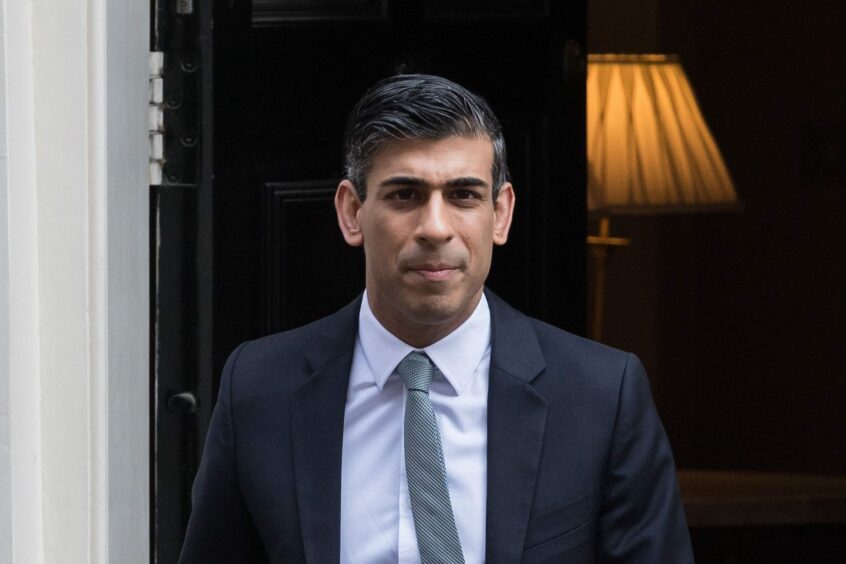 Rishi Sunak has announced a multibillion-pound windfall tax on oil and gas, which the industry has slammed as sending "shockwaves" on jobs, investment and communities.
The Chancellor's "temporary" measures will raise around £5 billion in revenue over the next year, he told the House of Commons, by increasing the current headline rate of tax on oil firms from 40% to 65%.
Trade body Offshore Energies UK, the Aberdeen and Grampian Chamber of Commerce and Sir Ian Wood have been united in condemnation of the levy.
The tax comes into effect today, and will be legislated for via a standalone Bill to be introduced shortly.
The levy also includes a measure to boost investment, "so the more a company invests, the less tax they will pay".
A near-doubling of the investment allowance to 80%, on top of other measures, means firms will get 91 pence back per £1 spent for a total relief rate of 91.25%.
The scheme is expected to be beneficial to those firms with decent investment plans ahead – but companies with more mature fields, without sizeable spending planned could suffer.
The legislation will be phased out when oil and gas prices return to "historically more normal levels" – and it will include a "sunset clause" effective at the end of December 2025.
Must prevent 'flood of investment' going overseas
Trade body Offshore Energies UK condemned it as a "disappointing and worrying development", just weeks after Westminster's energy security strategy was published aimed at delivering a boost to the North Sea.
CEO Deirdre Michie said the "shockwaves" of the levy will be "felt in offshore energy jobs and communities, and by consumers, for years to come" and the focus now must be on stopping investment from going overseas.
She added: "In April we welcomed the government's British Energy Security Strategy, which pledged 'Secure, clean and affordable British energy for the long term'. We thought long-term meant years or decades, but it seems to have meant just a few weeks.
"The strategy's focus was on attracting investment to build a greener energy system to reduce dependence on imports. These new taxes will achieve the exact opposite of what the government promised in April.
"Right now, the key task is to prevent a flood of investment formerly earmarked for UK energy projects now being diverted to Norway, Saudi Arabia, and Qatar."
Sir Ian Wood, who heads up economic development body Opportunity North East, said the industry is "deeply concerned at the distressing circumstances facing many UK consumers" but warned of the damage the hike could have on UK energy security and investor confidence.
He noted that the industry is already due to contribute £7.8bn this year, "money clearly available to help offset the consumer crisis" while not undermining "crucial investor confidence".
"A one-off windfall tax – an additional 25% tax hike – is a very significant increase and will undoubtedly result in some projects being shelved as well as reducing investor confidence in the oil and gas industry. This will have implications for security of oil and gas supplies into the UK. Also our oil and gas activities are definitely having a positive impact on developing the new energies and slowing these down right now will have an adverse effect on meeting net zero targets.
"Many European countries are facing energy shortages and the risk of energy rationing, and our offshore resources, oil, gas and offshore wind, are helping protect us from similar crises. They boost our energy security as well as the Exchequer."
Sir Ian said the measure is a "blunt,short-term insturment" and, in response, urged Westminster and Holyrood "to back the North East Scotland Green Freeport in order to stimulate future investment in energy transition, securing economic growth and thousands of jobs".
Alongside the action we've already taken this year today's measures will ensure:

The vast majority of households receive £550.

Pensioners receive £850.

And almost all of the eight million most vulnerable households will receive support of at least £1,200.

Watch 👇 pic.twitter.com/fmUVtPswpV

— Rishi Sunak (@RishiSunak) May 26, 2022
Tessa Khan, director at activist group Uplift, said the measure "is a win for campaigners and a long-overdue acknowledgment by the Chancellor that the excess profits made by oil and gas companies need to be shared with those facing hardship from soaring energy bills".
However, she lamented the investment allowance measures for the North Sea, saying it "will only worsen the climate crisis and lock us into unaffordable energy bills, instead of accelerating the growth of affordable renewable energy".
The Chancellor said the tax will enable measures including payments of £650 to be distributed to eight million low-income households .
Additional payments are to be made to people with disabilities and pensioners.
Meanwhile a £200 scheme to support every British household is to be doubled to £400, but none of it will need to be repaid.
In his address to parliament, Mr Sunak said that the UK is "acutely exposed to the European energy price shock" and that the "high inflation we're experiencing now is causing acute distress to people in this country".
"The oil and gas sector is making extraordinary profits, not as a result of risk-taking and efficiency, but as a result of surging global prices as a result of Russia's war."
The Chancellor added that he is "sympathetic" to the argument to tax those companies but "as ever there is a sensible middle ground".
Companies will not be able to reclaim rebates on previous losses or decommissioning on this extra 25% tax rate.
In response to the measures, Ryan Crighton, policy director at the Aberdeen and Grampian Chamber of Commerce, said: "In the short-term, taking an additional £5billion from a sector already taxed at 40% will achieve very little apart from making the North Sea – already one of the world's most mature basins – less attractive to investors.
"Tax and fiscal stability, above all else, really matter in a globally competitive investment market, and today we've shot ourselves in the foot."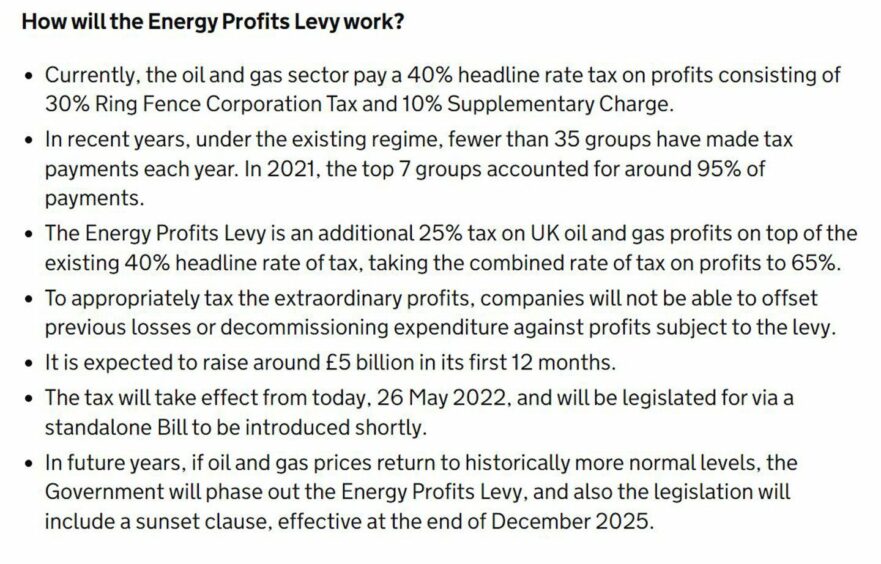 Some from the industry have welcomed the policy, however.
Steve Brown, CEO of Orcadian Energy, said doubling of the investment allowance is "exactly the vote of condifence in North Sea projects that Orcadian has been calling for".
"We know we provide the solution to greater energy security and world-leading low emissions, and giving the green light to the 33 North Sea projects awaiting approval will lead to the jobs and skills the Chancellor wants to see at the end of this crisis. "
Slow build-up
Labour's shadow chancellor Rachel Reeves said the policy comes five months after Labour proposed such a levy, and cited comments from BP CEO Bernard Looney, describing oil and gas as a "cash machine".
The widely expected measures have been dreaded by the industry as the debate rolled on for months.
MPs voted down a Labour bid earlier this month to impose a windfall tax on oil and gas firms – prompting Keir Starmer to say a U-turn was "inevitable".
Politicians are scrambling to find a way to support households, particularly those on low income, as energy prices skyrocket.
Ofgem announced this week that typical energy bills are set to rise to £2,800 a year – an increase of £800 from October – causing millions of people to be plunged into fuel poverty.
OEUK said the measure could "destabilise" a planned £200bn of investments in the sector through to 2030, the lion's share of which is in clean energy.
It's the same position that the Chancellor took himself as recently as February.
'No-brainer'
Cara Jenkinson, cities manager at climate solutions charity Ashden, supported the measure but the the government could be bolder.
She said: "Introducing a windfall tax at this time is an ethical and financial 'must' and we welcome the government announcement. With the urgent need to reduce the cost-of-living crisis, this windfall tax is a no-brainer.
"But for real impact the government needs to be much bolder – the UK should be ploughing money into investments that will rapidly reduce prices for struggling families and reduce emissions for a struggling planet. Embarking on a massive nation-wide retrofit campaign that is designed to help the poorest of this country, is the second 'must'."
Recommended for you

Labour leader Keir Starmer vows 'to block new North Sea oil and gas'