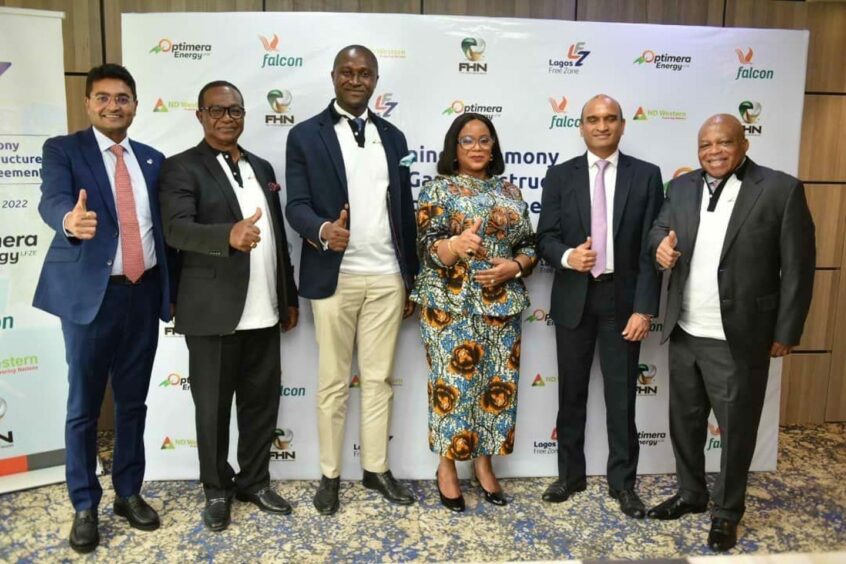 A group of Nigerian companies have teamed up to build, own and operate (BOO) a natural gas infrastructure network in the Lagos Free Zone.
Falcon Corp., ND Western Midstream and FHN Gas are teaming up via a special purpose vehicle, Optimera Energy.
The companies held a signing ceremony on May 16.
Optimera Energy will "deliver uninterrupted piped gas by early 2024 to all the enterprises within the Lagos Free Zone", said the Lagos Free Zone CEO Dinesh Rathi.
He linked the gas plan to the completion of a port. The Lekki Port should be completed in December this year, he said. As such, "we needed to secure a reliable arrangement to meet the energy needs of our fast-growing tenant base, and we are confident that our partnership with the consortium would help us realise the same".
FHN CFO Kayode Olatunbosun, in a LinkedIn post, put the value of the gas infrastructure plan at $25 million. Olatunbosun said the project would meet up to 200 million cubic feet of gas demand.
Competitiveness
Optimera managing director Audrey Joe-Ezigbo said the three companies were like minded. They are all determined to accelerate "the further growth of domestic gas utilisation in Nigeria".
A dedicated gas supply in the free zone "adds tremendous value to existing industrial concerns", she said. It will "increase the zone's attractiveness to future customers".
The group plans to work with the Nigerian Midstream & Downstream Regulatory Authority (NMDPRA) on the project, Joe-Ezigbo continued.
"The consortium members bring over 50 years of experience and expertise in operating across the natural gas value chain from upstream production in the Niger Delta to downstream distribution to industries in Lagos," she said. The team will "deliver this project on time and under budget, as we have done within our respective portfolios".
Joe-Ezigbo is the co-founder and deputy managing director of Falcon Corp. The company operates the Ikorodu natural gas distribution project in Lagos State.
This will "improve the regional competitiveness of the country as an export oriented industrial hub with an energy-enabled deep seaport in the heart of Lagos", the FHN executive said. The project is in line with the company's corporate strategy, he said. It aims to integrate along the energy value chain while diversifying its revenue base beyond oil.
Recommended for you

NNPC buys "very profitable" fuel business from Vitol, Helios