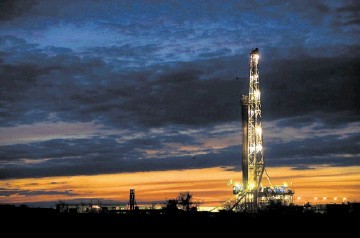 Oil extended losses below $60 a barrel amid speculation that OPEC's biggest members will defend market share against US shale producers.
Brent also slid after closing at the lowest price since July 2009.
West Texas Intermediate futures fell as much as 1.9% in New York and are down 10% this week.
Iraq, the second-largest producer in the Organization of Petroleum Exporting Countries, said its decision to widen a discount for January sales to Asia isn't proof of a price war.
Crude will decline further next week, according to a survey of analysts and traders.
Oil is headed for the 10th weekly drop since October after OPEC decided against reducing its output, even as the highest US production in more than three decades exacerbates a global glut.
Saudi Arabia, Iraq and Kuwait, the group's three biggest members, this month widened discounts on shipments to Asia, bolstering speculation that they're fighting for market share.
"It's clear that as far as the Saudi price war is concerned, there's no sign of retreat, so it looks like oil prices will continue to fall," Phil Flynn, a senior market analyst at Price Futures Group in Chicago, said. "Now that $60 has fallen, the next support is $58."
WTI for January delivery dropped as much as $1.15 to $58.80 a barrel in electronic trading on the New York Mercantile Exchange and was at $59.28 at 3 pm Singapore time.
The contract lost 99 cents to $59.95 yesterday, the lowest close since July 2009. Total volume was about 70% above the 100-day average. Prices have decreased 40% this year.
Brent for January settlement slid as much as 68 cents, or 1.1%, to $63 a barrel on the London-based ICE Futures Europe exchange.
The European benchmark crude traded at a premium of $4.02 to WTI, compared with $3.23 at the end of last week. Prices are down 8.3% this week and 43% lower in 2014.
OPEC, which supplies about 40% of the world's oil, maintained its output target at 30 million barrels a day at a November 27 meeting, resisting calls from members including Venezuela to reduce quotas.
The Latin American nation wants special discussions to be held before the group gathers again on June 5, Foreign Minister Rafael Ramirez said on the Telesur network on December 10.
Iraq's pricing of its Basrah Light grade is "based on the market structure for both oil products and crude oil," the state-owned Oil Marketing Co. said.
"There is no basis for a 'price war'."
The global oil market will correct itself, Saudi Arabian Oil Minister Ali Al-Naimi said Dec. 10 in Lima, Peru.
Production in the US expanded to 9.12 million barrels a day through December 5, data from the Energy Information Administration shows.
That's the fastest rate in weekly records that started in January 1983, according to the Energy Department's statistical arm.
"The supply outlook has driven prices to these levels and the market is now looking for a base, where it thinks shale supply growth will be reined in," Mark Keenan, the Singapore-based head of commodities research for Asia at Societe Generale SA, said. "From a technical standpoint, the market is in a very clear downtrend."
The US oil boom has been driven by a combination of horizontal drilling and hydraulic fracturing, which has unlocked supplies from shale formations including the Eagle Ford in Texas and the Bakken in North Dakota.
Global demand for OPEC's crude will shrink by 300,000 barrels a day to 28.9 million next year, the least since 2003, the group predicted in its monthly report on December 10. Its 12 members pumped 30.56 million a day in November, exceeding their collective target for a sixth straight month, a separate survey of companies, producers and analysts showed.
Oil may fall to as low as $40 a barrel amid a price war or if divisions emerge in OPEC, Mohammad Sadegh Memarian, the head of petroleum market analysis at Iran's Oil Ministry, said December 9.
The Persian Gulf nation is the fifth-largest OPEC producer.
Crude will trade at about $65 for six or seven months until OPEC changes its output policy, a recovery in world economic growth becomes clearer, or geopolitical tension arises, Nizar Al-Adsani, Kuwait Petroleum Corp.'s chief executive officer, said December 8.
Recommended for you

IOG suspends 'uneconomic' A2 well as Southwark woes mount