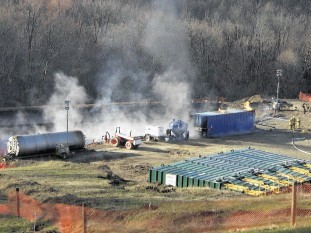 Statoil has reduced its working interest in the US southern Marcellus onshore asset from 29 to 23% in a $394million deal with Southwestern Energy.
The deal covers 515,000 acres in the southern part of the Marcellus, with the divested share representing 30,000 acres.
The Norwegian company's third quarter production from the Marcellus play amounted to 130,500 barrels of oil equivalent per day.
Torstein Hole, Statoil senior vice president, said: "The transaction reduces Statoil's non-operated holdings at an attractive price, demonstrating the value of the Marcellus assets.
"Our new partnership with Southwestern Energy provides us with an opportunity to maximise the value of an important growth asset in our US onshore portfolio.
"Southwestern is a very dynamic operator that will maximise the value and return."
Statoil has established a strong acreage foothold in US unconventionals since entering the Marcellus in a joint venture with Chesapeake in 2008.
After initial entry into the Marcellus in 2008, Statoil entered into the Eagle Ford in 2010, acquired Brigham Exploration in Bakken in 2011 and the Marcellus-operated acreage acquisition in 2012.
Earlier this year Southwestern Energy acquired Chesapeake Energy's holdings in the Marcellus asset.
Statoil said it has agreed to give Chesapeake consent for their transaction with Southwestern.
The company and Southwestern have now agreed to the partial sell-down of Statoil's interest at an equivalent price to that agreed between Chesapeake and Southwestern.
A joint development agreement has been created between Statoil and Southwestern Energy and the transaction is expected to close early next year.
Since 2011, Statoil have been transitioning from a non-operator to an established unconventional operator and today its portfolio includes operated positions in each of these assets.