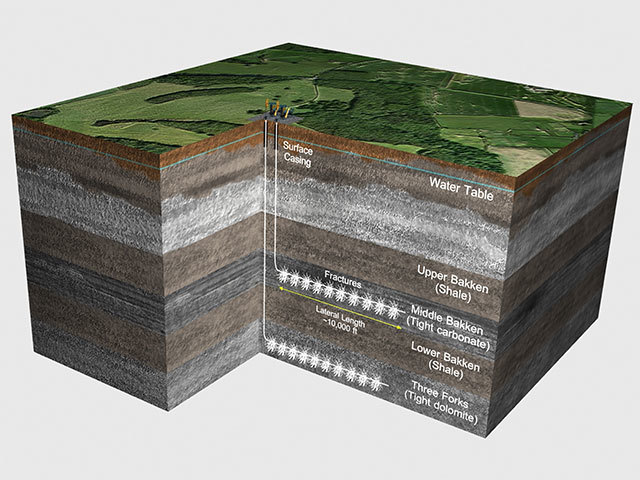 Hess Corporation has cut its 2015 exploratory budget by 16%.
The company said it would be spending $4.7billion, a reduction from its 2014 spend of $5.6billion.
Chief operating officer Greg Hill said the company would increase activity as oil prices began to recover.
He said: "We are reducing our 2015 spending in the Bakken to US$1.8 billion, compared with US$2.2 billion in 2014.
"In 2015, we plan to operate an average of 9.5 rigs and bring approximately 210 new operated wells online, compared with 17 rigs and 238 operated wells brought online in 2014.
"Hess has some of the best acreage in the Bakken, and we will continue to drill in the core of the play which offers the most attractive returns.
"Substantially all our core acreage is held by production, which allows us to defer investment in the short term while maintaining the long term value and optionality of this important asset.
As oil prices recover we will increase activity and production accordingly.
"In the Utica, we plan to spend US$290 million compared with approximately US$500 million last year, as we transition to early development at a measured pace in this price environment and as infrastructure builds out.
"Over 2015 our joint venture with CONSOL intends to execute a two rig program focused in the core of the wet gas window and bring 25-30 new wells online, compared with four rigs and 39 new wells in 2014.
"Our 2015 budget also includes continued offshore production drilling at the Tubular Bells and Shenzi fields in the deepwater Gulf of Mexico, at the South Arne Field in Denmark, the Valhall Field in Norway, the Okume Complex in Equatorial Guinea, and also in the Joint Development Area of the Gulf of Thailand.
"Additionally the budget will fund continued full field development of the North Malay Basin project in Malaysia and development of the Stampede Field in the deepwater Gulf of Mexico. Our 2015 exploration drilling program includes wells in the deepwater Gulf of Mexico, offshore Guyana and Kurdistan."
For more market info click here.