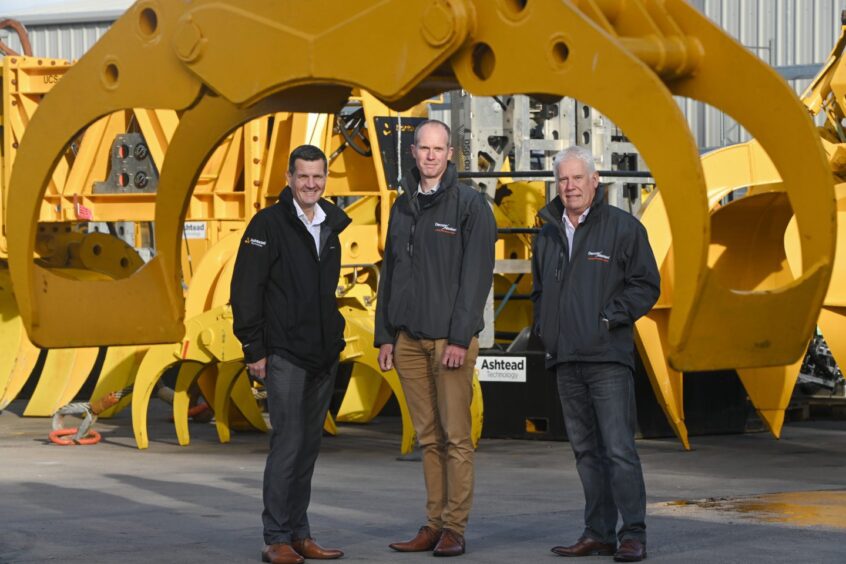 The decommissioning sector is facing a myriad of challenges including inflationary pressures, skills shortages and a lack of project visibility according to Decom Mission, the Aberdeen-based trade body representing the industry.
Formerly known as Decom North Sea, in May the group underwent a rebranding to better reflect the "broader trends of the energy transition".
The decision followed the appointment last year of a new leadership team in the form of current chief executive officer Sam Long and operations director Callum Falconer.
Speaking to Energy Voice, Mr Long said the rebrand reflected the international scope of the decommissioning sector.
"For Decom Mission, our goal is global," he said.
"We don't just fixate around the North Sea."
Decom sector survey
Mr Long told Energy Voice one of the major challenges currently facing the decom sector is a lack of data on areas ranging from supply chain capacity to project pipelines and asset ownership.
Aiming to change this, Decom Mission has launched a sector survey with data science firm Empirisys.
"We want to be able to stand on stage and not just tell our members, 'We know there's a capacity issue', I'd like to stand there and say 62% of members say that it's critical," Mr Long said.
Figures from the North Sea Transition Authority (NSTA) UKCS Decommissioning Cost and Performance Report 2023 estimate there will be £21 billion of spending on decommissioning in the next decade.
But while the demand for decom work is significant, Mr Long said the survey is aiming to find out if the supply chain can meet that demand.
"Our survey is designed to counter the demand signal and say, 'what is the reality? What are people really going to be able to execute?'," he said.
"It is an activity set that the operator doesn't really want to do until they get to a tipping point where they have to do it.
"There's a lot of complexity because of net zero, and there's a lot of complexity because of tax, (but) the economic and technical pressure to decommission is building."
Mr Falconer said because decommissioning is happening at the same time as construction in renewables many operators are in competition with themselves for the supply chain.
"That's not right, that's just going to push prices back up," he said.
Skilled labour shortages
Alongside the lack of project visibility, the decom sector is facing a range of issues including inflationary and tax pressures.
But Mr Falconer said one of the biggest challenges facing the space was the availability of skilled labour.
The situation has only been worsened by recent downturns in the oil and gas sector, with as many as 30,000 people leaving the industry in 2020 according to figures from Oil and Gas UK, now OEUK.
"Therefore, as we transition from oil and gas into decommissioning or into carbon sequestration, hydrogen etc., the whole idea would be to take the people with us and retrain or upskill," Mr Falconer said.
"But there's a big gap now as we move into decommissioning.
"Our members say they just can't get people."
Even for those still in the oil and gas industry wanting to retrain, Mr Falconer said there simply were not enough training courses currently available.
"(Often) a member will get somebody in and they'll say, 'I'd like to go on a training course' and learn generic decommissioning or more niche skills and they just don't exist," he said.
In addition, Mr Long said the transition situation is further complicated by the higher levels of automation expected to be part of the future energy complex.
"We used to have 200,000 people working directly in oil and gas and we're down to about 120,000," he said.
"But you've also got to bear in mind the forward analysis of where we might be in 2040 and 2045, when there's net zero kicking, which might be down to 70,000.
"Now a lot of that (reduction) is going to happen naturally, so we're seeing a lot of retirement in this. But the skill sets are going to have to change. So how are you going to keep people in there?"
Mr Long said while it was great to have the industry forecasting 20 years ahead, in the meantime "just the decommissioning sector needs a piece of the pie".
"Nuclear new build and offshore wind new build, they're all going to require people," he said.
"But decommissioning also needs people to come onboard."
'The Great Crew Change'
Operators are also struggling with a loss of corporate knowledge of assets due to retirements.
The 'Great Crew Change', as the Society of Petroleum Engineers calls it, means that over the last 20 years the people who largely established offshore oil and gas in the North Sea in the 1970s have left the industry, taking their extensive knowledge with them.
"Many of these assets are now 30 to 40 years old, and they were built under far simpler engineering principles and capabilities than we have right now," Mr Long said.
"Quite often you may not have a digital footprint of it, and so as a generation retire… we don't have people with that deep knowledge, then many of these jobs are getting more complicated."
Mr Long said in the early days of the decom sector they would often ask clients, 'Who built this?'.
"Literally. We used to try and find people who had built it in the 70s and you can't do that anymore," he said.
Mr Falconer said the more common question he asked Decom Mission members nowadays was 'who has owned this?'.
"Because many of them are a third or fourth generation operator," he said.
"The ownership is become complex."
Because of the inconsistent nature of the decommissioning pipeline, Mr Falconer said corporate knowledge is even lost internally between projects.
Operators tend to assemble a decommissioning team for a large project, and once completed the team disbands.
"Then when they do another big decommissioning project, there's a new team and so that knowledge from the old team just disperses and it's not brought forward into the new project," he said.
OSPAR uncertainty delaying projects
Decommissioning projects are also being held up due to regulatory uncertainty surrounding the Ospar Convention, which the UK is party to.
Ospar governs the protection of the marine environment of the North-East Atlantic and was agreed between 15 national governments and the EU in the 1970s.
Plans by operators like Shell and Fairfield Energy to leave parts of their assets in the North Sea have caused a dispute between Ospar members, and Mr Long said many Decom Mission members were waiting for a resolution before pushing ahead with projects.
But Mr Falconer said there was a risk supply chain companies will take on renewables projects or overseas work instead.
Once again, the challenge of linking up operators and supply chain members is part of the role of Decom Mission, Mr Long said.
"What we're here for is to try and give a little bit of guidance and an independent voice," he said.
"We are there to go and ask questions that maybe others can't."
Renewables, carbon trading tariff
With the EU set to introduce a carbon tariff on imported steel, Mr Long said the renewables sector would soon need to take stock of its decommissioning and recycling plans.
"The industry has clearly got very good green credentials, but its materials use is not very good and it is starting to become very aware of that," he said.
"And so even for materials like steel, the market for that may radically change and actually shipping it transboundary to be reprocessed and brought back may not work anymore.
"What this might look like in 10 or 15 years' time is more remanufacturing, more local manufacturing, more materials being recycled and reused."
Industry sees greater role for regulator
Mr Long said governments are slowly recognising the importance of decom to decarbonisation and achieving net zero, as well as recognising its economic benefits.
"The UK Government is very conscious that there's an export potential and we are seen as the centre of excellence for decommissioning," he said.
"Then you've got the Australian government deliberately coming and looking for expertise in the North Sea because they know that they've got a problem coming around the corner."
In terms of policy change, Mr Long said Decom Mission members are focused on three areas.
Firstly, Mr Long said members are concerned there is insufficient visibility of current decom projects.
"We need to know, who is the operator, what's the scope and when is it coming down in real-time. I'm hearing that, that's not good enough," he said.
Secondly, members say the power of the regulator in the UK could be increased.
"In the Gulf of Mexico, the regulator there is an empowerment regulator," Mr Long said.
"They don't do that here and there is a call among some of our members for the regulator to do that so that these projects are executed in a logical manner."
And finally, many UK members would like to see more done to keep decommissioning projects within the country.
But Mr Long said the importance of retaining onshore decommissioning projects needed to be kept in perspective.
"Remember that the disposal activity where they're taken and put to a yard to be cut up is still only 3% of the total spend," he said.
The Decom Mission sector survey conducted with Empirisys is open until the end of November and available online.